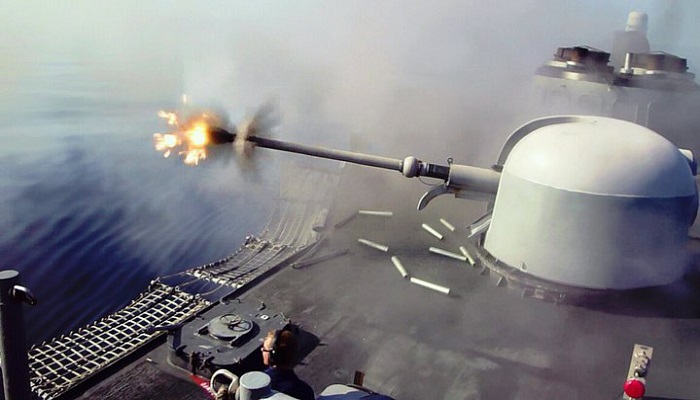 The Almaz Central Maritime Design Bureau offers an export version of the Project 22800 E corvette equipped with Italian-made 76-mm gun mount OTO Melara, diesel engines MTU and radio electronic weapons Thales to India, reports says.
Potential buyers are also offered a fully import-substituted version with Russian engines, the gun mount and radars. The export version of the Project 22800E debuted at the Army-2016 defense show.
The corvette version fitted with imported components may be more interesting for foreign customers, the design bureau staff told today. The question is primarily about the Indian Navy which is going for maximal diversification in weapons and military hardware.
The "Italian" variant of the exported Karakurt-class can be equipped with 76-mm gun mount OTO Melara. Its fire rate is 85-120 rounds per min, range varies from 16 to 20 km. Similar Russian gun mount AK-176MA is a bit heavier and has shorter firing range (15.7 km), but higher rate (up to 130 rounds per min).
On March 2, 2017, the Arsenal machine factory (St. Petersburg) reported on successful completion of the gun mount's trials. 
According to an insider in the Almaz design bureau, in contrast to Russian gun integrated in the ship's weapons and fire control system, the Italian alternative will need the new one.
Konstantin Sivkov, Capt 1 Rank and Doctor of Military Science, says the slightly better characteristics of Italian gun do not ensure the critical advantage. "The point is the fire rate, as the key threat for a corvette is air attack, namely, cruise missiles and aircraft. Artillery duels are rare at sea today. This gun will deal with long-range air defense, at 10-12 km. What prevails here is integration into the ship's common air defense system and high fire rate".
The expert added that if such gun mount was not initially integrated, targeting and lock-on data transmission would slow down critically. According to him, for Karakurt-class corvettes the Russian gun is better, especially, in the air defense issues. Along with AK-630 and aiming systems, these guns make a closed-loop air defense system, operating effectively within their range. 
For the Russian Navy, Karakurt corvettes will be armed with the Caliber-NK missile strike system, the 76-mm gun mount and the antiaircraft gun/missile system. The ship's displacement is 800 tons, speed is 30 knots, endurance is 15 days. 
Project 22800 corvette was designed by the Almaz bureau as an alternative for Project 11356 frigates which construction is delayed. Totally, the Navy plans to obtain up to 23 Karakurt-class corvettes.