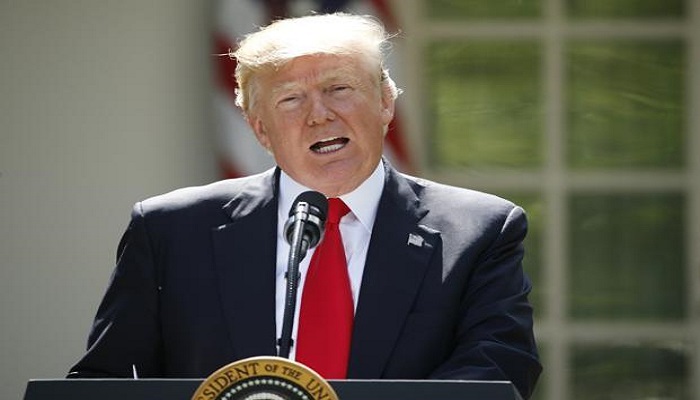 The United States of America's President is going rogue on Paris climate deal. The country's 45th President, businessman entrepreneur Donald Trump, announced on Thursday that subject to a few caveats, Washington is pulling out of the widely-acclaimed climate change accord.
The withdrawal reneges on American accountability and responsibility for being historically the world's largest emitter of greenhouse gases that have raised Planet Earth's temperature to dangerous levels and brought misery upon the globe. Trump made the announcement of US withdrawal at the White House Rose Garden, saying that he was doing it because it was his "solemn duty to protect America and its people" while claiming that the accord favoured China and India.
The US President also made a laundry list of complaints against India, falsely saying New Delhi was demanding "billions and billions and billions" of foreign aid to conform to the deal, and claiming that the accord will allow India to double coal production by 2020. The withdrawal is on America's interest and won't matter much to the climate," Trump maintained.
In an apparent concession to his daughter Ivanka Trump, who is said to have opposed the withdrawal, Trump said the US will seek to negotiate its way back or negotiate a new climate deal that is "fair" to America." The economy is coming back very very rapidly, adding $ 3 trillion to the stock market… We have just begun," reeling off as string of economic achievements and growth metrics since he took office as he made a case against the Paris Accord.
Trump's decision went not only against the stand of his own daughter and son-in-law, but also of some servile cabinet members, several lawmakers, major corporations, industry titans, and even Pope Francis, all of whom pressed with varying degrees of intensity for the US staying in the Accord.
The US, under President Obama, had stitched together the deal with great difficulty after convincing a majority of the 198 nations, including long-term holdouts such as China and India.
But ditching the agreement was part of Trump's election campaign promise. Trump had also signalled that he is a climate change sceptic, once calling it a "Chinese hoax" to undermine the US economy. The prime movers for exiting the agreement were Trump's adviser Steve Bannon and the head of the Environmental Protection Agency Scott Pruitt, who both convinced the president that US commitments to reel back emissions would put a crimp on the economy and result in job loss.
The country's manufacturing base and fossil fuel industry, including the coal mining constituency, backed Bannon and Pruitt in their efforts. Effectively, Trump's move is aimed primarily at appeasing his core constituency of poorly educated, low-skilled, blue collar workers who Bannon believes were responsible for putting him in the White House. Although China is currently the world's largest CO2 emitter, having overtaken America in the past decade, the US historically is the world's biggest polluter, riding on a century of mass consumption and servicing of everything from large homes to large vehicles.
In 2015, the US released 5.1.million kilotons of CO2, accounting for a sixth of global emissions and more than that of 28 EU countries combined. In comparison, India, with four times the US population, accounted for 2 million tonnes of CO2. Such emissions are scientifically proven to have caused global warming that in turn has led widespread climate changes across the planet. The Paris Agreement on Climate Change is aimed at cutting emissions and keeping global temperatures from rising more than 2 degrees Celsius above pre-industrial levels.
The US, under President Obama, had made forward-looking commitments to cut emissions which the Trump administration will now renege on. The global community will also be looking to plug the gap in the $ 3 billion commitment Obama had made to an international fund meant to aid the hardest-hit countries of which only $ 1 billion has been transferred.