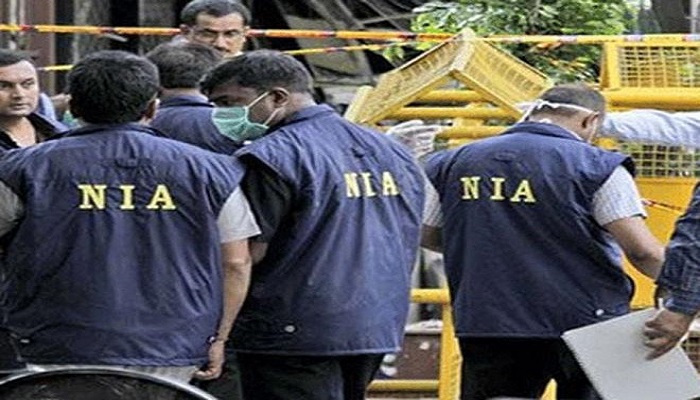 The National Investigation Agency (NIA) on Saturday conducted raids across Jammu and Kashmir and Delhi after converting a preliminary enquiry into terror funding, allegedly involving Hurriyat leaders, into a regular case.
NIA chief Sharad Kumar said that 21 locations, including 14 in Kashmir and 7 in Delhi, were raided on early Saturday morning and added that the raids are likely to continue till afternoon.
Sources said that the locations being raided are residences and offices belonging to Hurriyat members and big hawala traders suspected to have acted as conduits for terror funding in the Valley. Some of the locations in Delhi are Greater Kailash, Pitampura and Ballimaran in Chandni Chowk.
One of the NIA teams, which includes an Enforcement Directorate representative, has already recovered cash worth Rs 1.25 crore in the raid at a residential location in Kashmir.
As per the case registered by the NIA 4-5 days ago, terror funds allegedly sourced from Pakistan-based terror outfits like Lashkar-e-Taiba were used for fuelling unrest in the Valley through incidents of stone-pelting and targeting of schools and public property.
NIA had recently questioned Hurriyat leaders Naeem Khan, Farooq Ahmad Dar alias Bitta Karate and Javed Ahmed Baba alias Gazi at Srinagar and Delhi regarding their involvement in raising, collecting and transferring funds through hawala and other channels for terror funding in Kashmir.
According to an estimate of the National Investigation Agency (NIA), Pakistan-based terror groups finance terrorism in Jammu and Kashmir by generating millions in donations through their charity organisations.
Falah-e-Insaniat Foundation (FIF), a charity run by terror outfits Jamaat-ud-Dawa (JuD) and Lashkar-e-Taiba (LeT), and Al Rehmat Trust, backed by another terrorist group Jaish-e-Mohammed (JeM), have been supporting terrorists and funding terrorism in Kashmir.
These outfits collect donations from people in Pakistan and then pass on the money to finance terrorism in Kashmir through their over ground workers, an NIA official has said.
'Al Rehmat Trust' distributes pamphlets to raise funds for sacrificing animals during Eid and after collecting the money, they finance terrorism.
FIF, one of the major and fastest growing Non-Government Organisations (NGOs) in Pakistan, also collects money from people and uses them to fund terrorists.
The groups collect millions of dollars in donations through crowdfunding in the name of social service, the officer said.
According to a 2012 report by an intelligence agency, 780 million Pakistani rupees were collected for funding terrorism in Kashmir.