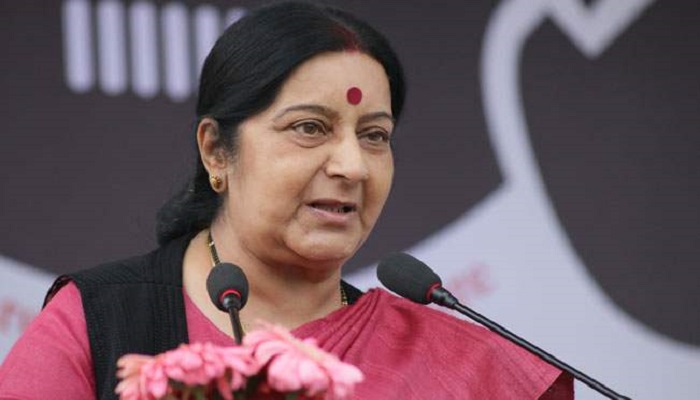 India on Monday dismissed US President Donald Trump's charge that it signed the Paris climate accord to get "billions and billions and billions" of dollars from developed nations.
"This is completely not true," external affairs minister Sushma Swaraj said about Trump's claim while announcing the US exit from the Paris deal last week. Trump alleged that India had made its participation in the accord contingent on receiving foreign aid from developed countries.
Sushma Swaraj, however, said the American move on the Paris climate agreement had not changed India-US ties and the relationship between the two countries was progressing as it did during Barack Obama's presidency.
"India signed the Paris agreement because of Indian culture and ethos and not under duress or out of greed (for monetary benefits). We are committed to the environment and this commitment is 5,000 years old," she told reporters at a press conference here to highlight the achievements of Narendra Modi government in the last three years.
She said that to accuse India of signing the agreement because it was pressurised by some countries or out of greed for foreign aid is completely baseless and unfortunate. "I would like to officially make this clear. I clearly dismiss both accusations."
The minister said she has always respected, even worshipped, nature and would be "committed to the Paris agreement, irrespective of what the US decides".
On President Trump's executive order for tightening the rules of the H-1B visa programme that could affect Indian professionals going to America for better employment and impact India's $150 billion IT industry, the minister said New Delhi was in talks with US Congress and Trump administration officials.
"Yes, the concern is there. We are talking to members of the Congress. Efforts are on to make sure the Trump administration's move doesn't impact Indians," she said and added that no changes have been made in the visa policy "as of now".
"There are amendments that cannot be made through executive orders," she asserted and denied that the proposed changes in the policy had affected India's ties with the US.
The Minister said the relationship between India and the US since Trump took charge were growing with the "same speed" as was the case when Barack Obama was President.
"There has been no change (in the ties). We are moving forward as we were moving."
She said India and US have a relationship "of mutual benefit".
"PM Modi has spoken to President Trump thrice. Our officials have also had talks with theirs on many occasions. Every interaction has been positive and good. US is India's major defence partner. And there has been no intimation from their side that might suggest diluting this special relationship we share."