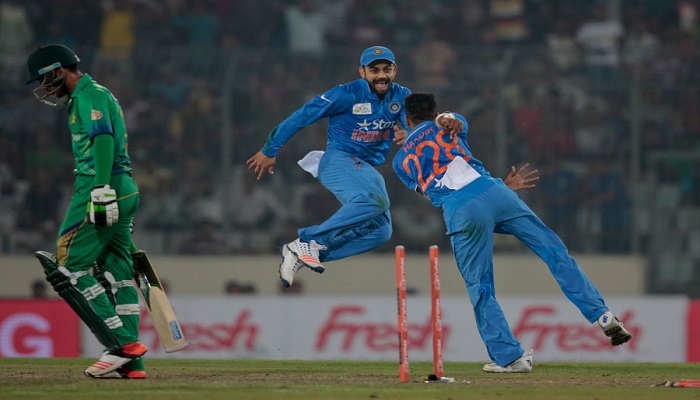 "India will not play bilateral cricket series with Pakistan till it doesn't stop sponsoring terrorism", minister for youth affairs and sports Vijay Goel said on Saturday.
"For everything there is a Lakshmana Rekha," Goel, who is leading a 200-member Indian youth delegation to China, told the media.
"We have clearly stated that terrorism and sports cannot go side-by-side," Goel said.
"As long as Pakistan doesn't stop cross border terror and Kashmir mein gadbad karta hai (creates trouble in Kashmir), there is no chance for a bilateral series. Also, the national mood doesn't support (having bilateral cricketing ties with Pakistan)," he added.
It is significant that Goel made the comment in China, which is a strategic and all-weather ally of Pakistan.
Cricket ties with Pakistan were snapped after India blamed its neighbour for sponsoring terrorism in the country and fanning unrest in Kashmir.
Prime Minister Narendra Modi briefly met Prime Minister Nawaz Sharif on the sidelines of the Shanghai Cooperation Organisation summit in Astana in Kazakhstan on Thursday evening. It was the first meeting between the two leaders since 2015 when Modi made a surprise visit to Lahore.
Goel declined to comment on the letter written by historian Ramachandra Guha, one of the four members Supreme Court-appointed Committee of Administrators (CoA) to implement the recommendations of the Justice RM Lodha panel to reform the Board of Control of Cricket of India (BCCI).
He said cricket is managed by the BCCI and the Supreme Court. He, however, referred to his ministry's proposal to have a sports code in India that would include cricket.
The Indian cricket team is currently participating in the Champions Trophy in England, defeated Pakistan in a 50-over match last Sunday.