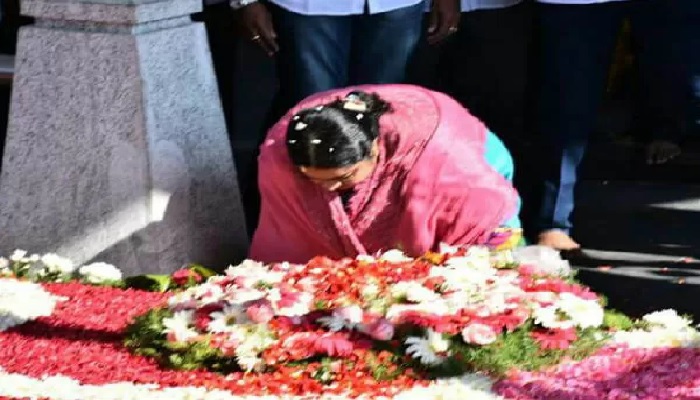 Dramatic scenes were witnessed outside Jayalalithaa's Poes Garden residence today with Deepa Jayakumar's visit.
J Jayalalaithaa's niece Deepa Jayakumar arrived at Veda Nilayam staking claim however, was denied entry by the security personnel. A three-tier security continues to be imposed at the empty mansion.
Deepa who arrived at Veda Nilayam claimed that the property belonged to her and that she should be allowed to enter.
"My aunt's house should belong to me. I am her heir," Deepa said.
Deepa was stopped by the security personnel as well as TTV Dinakaran's supporters. Deepa visited the Poes Garden residence today morning accompanied by a few supporters.
Heavy police deployment was enforced soon after people started gathering outside Jayalalithaa's residence. Poes Garden residence has been empty ever since Sasikala Natarajan's conviction and imprisonment in a disproportionate assets case. Despite being empty, Veda Nilayam is protected by three-tier security. Deepa as well as her brother have been claiming to be legal heirs of Jayalalithaa and staking claim to her properties. With no clarity on Jayalalithaa's will, ownership of her properties have been a bone of contention.