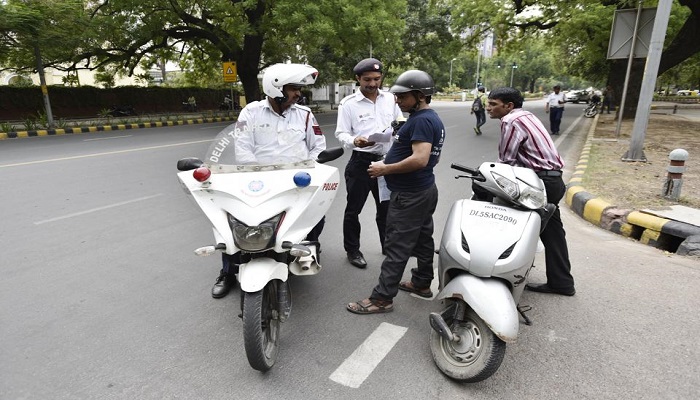 Until last year, Delhi traffic used to go for a'dhoom-like' model to chase to catch the traffic offenders.
But some violators who are swift and alert during the chases would get away from them without coughing up a penalty. But the job for the cops involved risking their safety and that of others.
Amit Kumar, a constable with Delhi Traffic police said, the last time he and a head constable were involved in a chase, they nearly escaped being hurt. "When the offending biker realised he was getting caught, he tried to ram our motorcycle sideways. We were forced to call off the chase," recalls Amit.
"Most of the traffic violators are usually bikers. As soon as they realise that they are being chased, they begin zigzagging on the roads without caring for anyone's safety," he said. The motorists do not even bother to slow down at speed breakers, making clear their intention to flee at all costs.
This is just one among a host of factors that has forced the traffic police leadership to make a conscious effort to go slow with the chases. The focus now is to play smarter and safer. So, while chase and challan figures have dipped from 2,400 per day on an average in 2013 to just about 500 every day last year, the overall prosecutions have risen.
Traffic police figures show that compared to 34 lakh total challans issued in 2015, the number of prosecutions last year jumped up by 18%. Till May this year, 26 lakh motorists have been booked which is almost double of the same period last year.
"As soon as someone chooses to flee despite being flagged down, the traffic policemen use wireless sets to alert the staff at the next junction, where they usually get caught. In case the motorist still manages to flee, a challan is sent to their home," says a DCP with the traffic department.
Not that these chases on Bajaj Pulsar 200 cc bikes were ineffective. These bikers incited fear in the minds of traffic offenders. In the year 2013, for example, over 2,400 motorists were being prosecuted every day on an average after hot pursuits on the city's roads.
But the chases posed great risks: to the daring chasers, the fleeing offenders and the innocent pedestrians or other motorists. In addition, old and poorly maintained bikes, aged and unfit traffic personnel, violent retorts by motorists and the shortage of staff have forced the slowdown. So, since the last year, the traffic police have decided to go easy on their chases.
The figures speak for themselves. During its peak in the years 2013 and 2014, one in every five of the 83 lakh total challans was issued after chases. In sheer contrast, this figure stood at less than five percent of all the 40 lakh prosecutions last year. This year so far, less than 1 lakh such chase and challans have been issued.
According to Garima Bhatnagar, Joint CP (Traffic), this is a conscious decision. "Before I assumed office in June last year, there were a few accidents during such chases. Fortunately, none of them were fatal," says Bhatnagar about what prompted the slowdown.
"Chasing was never a good idea. There are a lot more safer options such as using cameras that can detect registration numbers of vehicles. The chases should be limited to the police catching more dangerous criminals who can't be allowed to escape," says Rohit Baluja, head of Institute of Road Traffic Education.
To avoid chasing, Delhi Police is taking various alternate steps such as, noting down violators' registration number and alerting their colleagues at next checkpoint over wireless sets to sending challans to motorists' homes.
Forget chasing, traffic cops say they are now wary of even trying to forcibly stop fleeing motorists. "We have a close shave with fleeing vehicles every few days just because the offenders choose not to stop despite our signal. Our colleagues have died in the past. So, we prefer just to note down the address and send challans to their homes," says constable Amit.
Risky chases also pose another threat where lone traffic policemen being lured into hostile localities before being attacked or violators entering into heated exchange over coughing up the challan amount.
To reduce the number of traffic police has come up with new measures, such as seizing driving licenses, have added to the desperation among offending motorists. "Since a lot of these chases involved motorists who have jumped red lights, the desperation to escape is even greater now since they stand to forfeit their driving license for three months," says head constable Liyakat Ali.