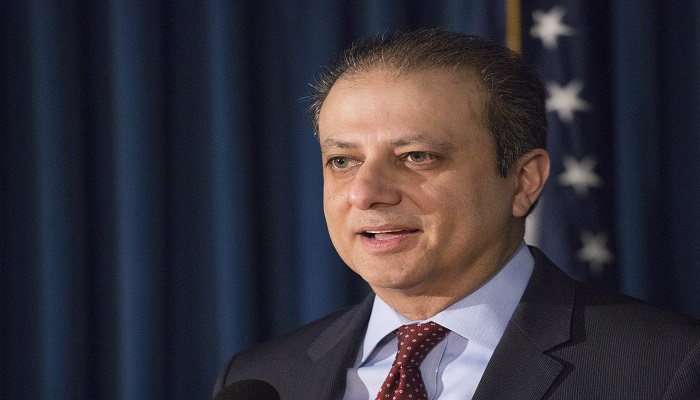 Indian-American prosecutor Preet Bharara who was fired by Donald Trump's administration in March has said that said there were "absolute evidence" to begin a case for obstruction of justice against the President, over his alleged interference in the Russia probe.
Bharara also alleged that before firing him, Trump tried to cultivate a relationship with him and that the pattern was similar to that of sacked FBI director James Comey.
Bharara was one of the 45 attorneys who were asked to resign earlier this year by the Trump administration.
"I think there's absolutely evidence to begin a case (against Trump). I think it's very important for all sorts of armchair speculators in the law to be clear that no one knows right now whether there is a provable case of obstruction," Bharara said.
"It's also true I think from based on what I see as a third party and out of government that there's no basis to say there's no obstruction," he said in his first television interview after being fired by Trump.
Mr Bharara, a friend and former colleague of James Comey,the FBI director fired by Trump in May, attended the Senate Intelligence Committee hearing on June 8 when Mr Comey testified about conversations he had with the President about the agency's overall Russia investigation and its probe into Flynn.
Mr Bharara said in the interview that watching how Mr Comey's interactions with Mr Trump and how his firing played out "felt a little bit like deja vu".
The Indian-American said Mr Trump, when he was still the president-elect, made a series of "unusual phone calls" to him.
"In reporting the phone call to the chief of staff to the attorney general I said, it appeared to be that he was trying to cultivate some kind of relationship," Mr Bharara said.
"It's a very weird and peculiar thing for a one-on-one conversation without the attorney general, without warning between the president and me or any United States attorney who has been asked to investigate various things and is in a position hypothetically to investigate business interests and associates of the President."
After Trump took office, Mr Bharara refused to take one of Mr Trump's calls.
"The call came in. I got a message. We deliberated over it, thought it was inappropriate to return the call. And 22 hours later I was asked to resign along with 45 other people," Mr Bharara said.
"To this day I have no idea why I was fired," Mr Bharara added.