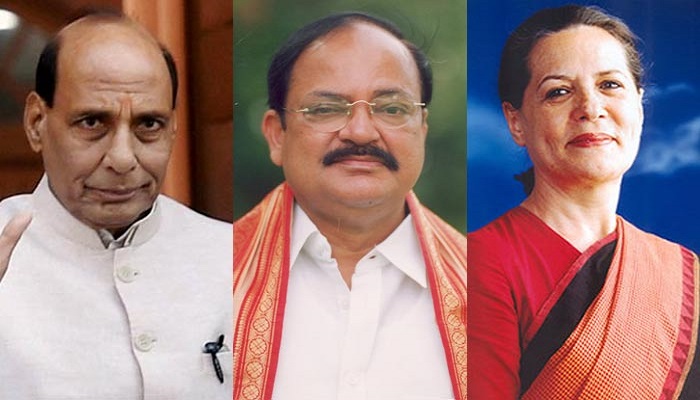 Union Minister Rajnath Singh and Venkaiah Naidu are set to meet Congress president Sonia Gandhi and CPI (M) General Secretary Sitaram Yechury at 11 am in New Delhi today to discuss a possible consensus candidate. Both Singh and Naidu, earlier in the week, held a meeting with Nationalist Congress Party's (NCP) Praful Patel and Bahujan Samaj Party's (BSP) Satish Mishra.
Singh, along with Naidu and Union Finance Minister Arun Jaitley, are part of the three-member committee formed by BJP president Amit Shah to discuss possible candidates with the Opposition. On Wednesday, Naidu told media that he has exchanged views with Rajnath and the party has decided to hold talks with the Opposition over the matters related to presidential elections. "We exchanged views today and will be talking to different parties regarding the same. On June 17, the Finance Minister will come back. We will exchange information with him and move forward," he had said.
Meanwhile, Congress leader Mallikarjun Kharge has denied rumours that the party will support the bid of RSS Chief Mohan Bhagwat for the presidential election. In a statement, Kharge said, "We are a secular party. We will never support Mohan Bhagwat; neither will the other parties. His name is being recommended by the Shiv Sena. We don't know what their connection is with the BJP. However, we will choose a candidate from a secular party."
Regarding Friday's meeting, Kharge said that the party will keep everyone's views on the matter. "The minutes of the meeting will be discussed with the rest of our party and the sub-committee that has been set up ahead of the polls. We will consider the opinion of all," he said. Sonia Gandhi had held a meeting with opposition parties in recent weeks, including Bihar Chief Minister Nitish Kumar and Sitaram Yechury in a bid to challenge the presidential candidate named by NDA government.
President Pranab Mukherjee's tenure comes to an end next month on July 24, with the Presidential election to take place on July 17. According to Election Commission, June 28 will be the last date to file nomination for candidates, with the result to be declared on July 20.