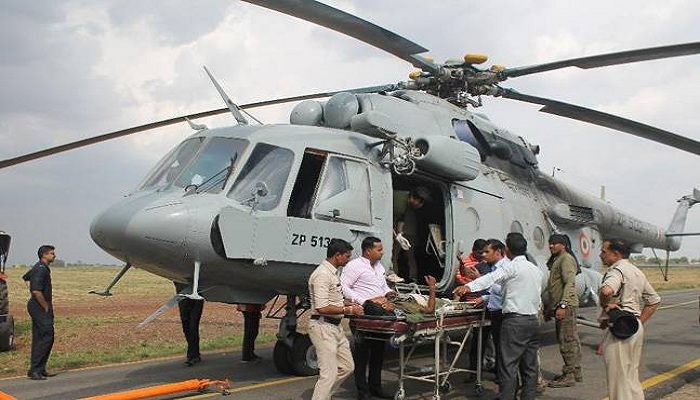 Chhattisgarh Police and CRPF have launched a major operation code named 'Operation Prahar' in Sukma district against Maoists recently.
The Anti-Naxal Task Force (ANTF) of the Indian Air Force had been involved in large scale troop transportation missions for this operation. Subsequently, ANTF was on hot standby for any eventuality.
Today, around 10 am, information was received that a heavy exchange of fire was on between Naxals and a combined party comprising of Special Task Force (STF) and District Reserve Guards (DRG) of Police in Tondamarka, located about 20 km south of Chintagufa in Sukma.
Soon information was received of heavy attrition to Naxals and also certain casualties to security forces.
In view of the high threat, Task Force Commander of IAF decided to task his helicopters in buddy mode.
The remote Naxal-infested area was in the jungles amid thick vegetation.
It was reported that five STF jawans had sustained bullet injuries, with three seriously injured who required urgent evacuation.
The area was a high threat zone close to the ongoing operations area. Since the nearest helipad for Mi-17 operations was at a distance, a decision was taken to launch the helicopters to evacuate the injured soldiers from the encounter area.
Soon two helicopters were airborne from Sukma at 12 pm with a medical team on board. Displaying great courage, one IAF helicopter landed in the heart of the encounter zone, at a small clearing in the heavily forested remote area. The five jawans were safely airlifted to Raipur for medical treatment, flying more than two hours in the process.
The most notable aspect of the mission was the quick response of the IAF in undertaking a very high risk mission in an active operation area by landing right where the casualties were, and not at a secure helipad that is the usual norm.