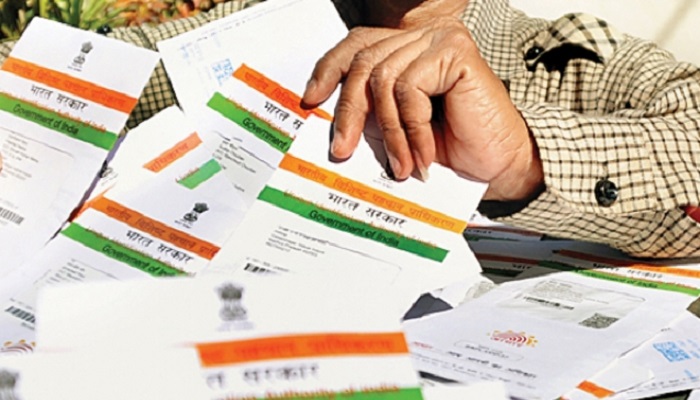 A five-judge Constitution Bench of the Supreme Court will hear a bunch of petitions challenging the constitutionality of the Aadhaar project, primarily whether the parting of biometric details by citizens to access welfare and benefits under the scheme is a violation of the right to privacy.
Attorney General K.K. Venugopal and senior advocate Shyam Divan joined forces on Wednesday and made an urgent mention before a Bench led by Chief Justice of India J.S. Khehar for the early setting up of a Constitution Bench to hear the petitions.
Mr Venugopal submitted that the scheme touched the lives of millions of people and its validity required immediate adjudication by an appropriate larger Bench. The Chief Justice then fixed the hearing for July 18.
In October 2015, the court referred the case for hearing before a Constitution Bench, but it was hanging fire despite several reminders from the petitioners. This is the first time that the Centre has formally joined the petitioners' side to mention for an early hearing by a larger Bench.
Mr Divan, along with advocates Vipin Nair and P.B. Suresh, submitted that the case came up for hearing on July 7 before a three-judge Bench led by Justice J. Chelameswar, who remarked orally that the constitutionality of the Aadhaar scheme should be decided "once and for all" and probably by a nine-judge Bench.
Justice Chelameswar enquired why the court had not heard the main plea on the constitutionality of Aadhaar despite a Bench led by him, in 2015, having referred it for hearing by a Constitution Bench.
The three-judge Bench, on October 7, 2015, referred to a Constitution Bench the question whether a person can voluntarily shed his right to privacy by enrolling for Aadhaar to access government welfare services. The court also took note of the fact of the enactment of the Aadhaar Act giving the scheme a statutory status.
(The court recently upheld a statutory provision making linking of Aadhaar with PAN mandatory.)
During the hearing, Mr Venugopal highlighted two judgments of the court — M.P. Sharma and Kharak Singh of 1954 and 1963, respectively, both of which had held that Article 21of the Constitution, including the right to privacy, was subject to reasonable restrictions.
The Sharma case was decided by an eight-judge Bench of the court, while the Kharak Singh verdict was delivered by a six-judge Bench.
Hence, Mr Venugopal suggested that it has to be first decided whether the petitions should be referred to a Bench of nine Judges for hearing and decision.
Recently, the Centre had termed Aadhaar a "transformational home-grown IT project."
The Centre had said that the fundamental right of identity and various e-governance initiatives of the government to provide food security, livelihood, jobs and health to the "teeming masses" cannot be sacrificed at the altar of the right to privacy of an "elite" few who have neither applied for nor want Aadhaar.
One of the petitions being heard is filed by former NCPCR chairperson and Magsaysay winner Shanta Sinha against 17 government notifications "making Aadhaar mandatory to access welfare schemes and benefits."