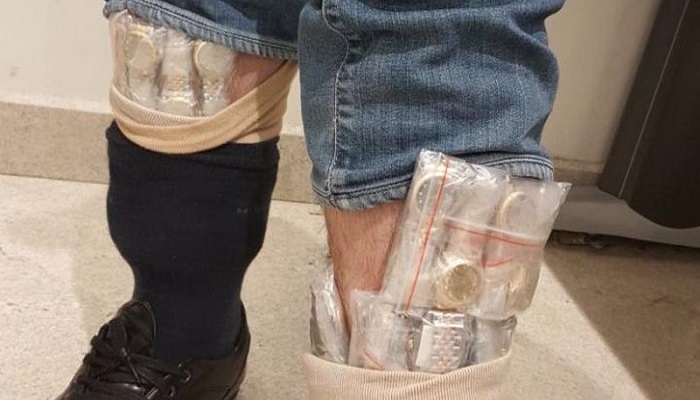 Luxury watches and fancy jewellery worth more than Dh3 million were seized by Dubai Customs inspectors as a passenger tried to smuggle them through Dubai International Airport.
Inspectors foiled the attempt after falling suspicious of the European traveller, who was flying into Dubai from an East Asian country, a customs official said.
The suspect was stopped by a customs officer at terminal 3 carrying 76 luxury wristwatches and six items of jewellery studded with diamonds worth around Dh3,016,000 in total, said Ibrahim Kamali, director of passenger operations at Dubai Customs.
"The haul of fancy jewellery and watches were strapped around his body under his clothes," he said.
Kamali said that inspectors of Passenger Operations Department became suspicious about the man's behaviour and carefully monitored him till he arrived at the customs zone.
"He was then x-rayed with a full-body scanner only to find smuggled jewellery and watches skilfully concealed under his dress."
As seizure report was initiated in the smuggling case and the suspect was referred to the competent authorities together with the seized items to take legal action.
"The suspect was bidding to illegally import the precious items into the country while evading payment of customs duty. But the method he used proved to be a failure in front of the intact inspection and security system of Dubai Customs," he said.
Kamali added that his staff were alert to any such smuggling attempts and ready to tackle anyone suspected.
"The seizure is a case of smuggling and duty evasion which our inspectors are always vigilant and adept to abort so as to protect customs revenues and Dubai's economy.
"Some people believe this technique of smuggling dutiable, must-be-declared goods in commercial quantities inside their clothes to avoid paying customs fees. But Dubai airports are equipped with highly developed scanning technology that detects any objects in people's bodies," he added.