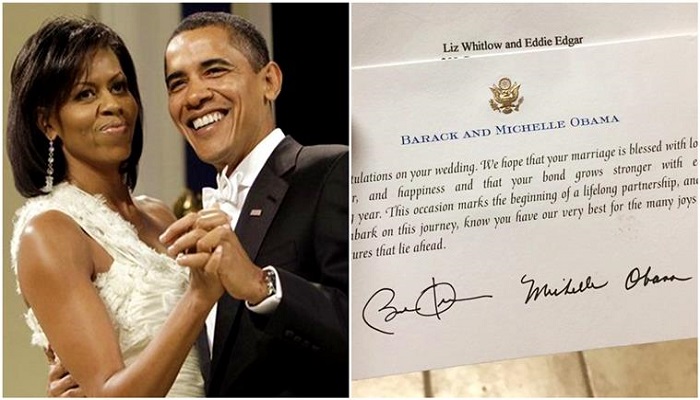 In a bid to see the Obamas again, a Texas woman wrote to the former US President Barack Obama and his wife Michelle Obama inviting them to her daughter's wedding. And guess what, they replied! Yes, the Obamas replied to the woman with a note congratulating on her daughter's wedding. Liz Whitlow, the mother of Brook Allen, the bride-to-be had mailed the invitation of her daughter's wedding in March. Although the Obamas missed the wedding, they sent a thoughtful response to the woman on July 31. Could the Obamas be any more adorable?
Brook Allen took to Twitter sharing pictures of the note they received from the Obamas and Twitter, as expected, went berserk. Her tweet reads, "MY MOM DEADASS SENT THE OBAMAS A WEDDING INVITATION BACK IN MARCH AND JUST RECEIVED THIS IN THE MAIL. IM HOLLERING." The letter reads, "Congratulations on your wedding. We hope that your marriage is blessed with love, laughter, and happiness and that your bond grows stronger with each passing year. This occasion marks the beginning of a lifelong partnership, and as you embark on this journey, know you have our very best for the many joys and adventures that lie ahead."
Soon Brook's tweet went viral with social media users talking about the sweet gesture. Following which many Twitter users shared pictures of the notes they received from the Obamas.