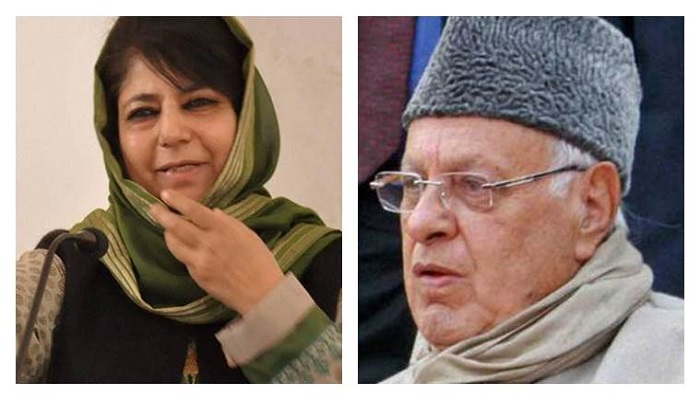 Amid a fresh clamour for the abrogation of Article 35-A of the Constitution, Jammu and Kashmir Chief Minister Mehbooba Mufti on Wednesday said the special status enjoyed by the state needed to be protected and preserved.
Jammu and Kashmir Chief Minister Mehbooba Mufti on Tuesday visited her arch rival and National Conference (NC) President Farooq Abdullah to discuss the state subject law under Article 35 (A).
Mehbooba's "unscheduled" meeting with Farooq comes a day after the NC President warned of a revolt of a much greater magnitude than the Amarnath land row, in case Article 35 (A) is abrogated in Jammu and Kashmir.
Charu Wali Khan, a resident of Jammu and Kashmir settled outside the state has challenged the legality of the Article 35 (A) in the Supreme Court on the grounds that the law disenfranchises and takes away her succession rights.
"The special status enjoyed by the State under the Constitution needs to be protected and preserved. No outsider can buy land in J&K, isn't it our strength? Don't we have to protect it? We have to protect it," said Mehbooba.
Article 35 A is a provision of the Constitution that empowered the J&K Constitution to define "permanent residents" of the state. It was added to the Constitution through "Constitution (Application to Jammu and Kashmir) Order, 1954," issued by the President under Article 370. The PR law replicated a state subject law promulgated by Dogra king Maharaja Hari Singh in 1927 following a strong campaign by Kashmiri Pandits who were opposed to the hiring of civil servants from Punjab because it had affected their representation in the Dogra administration.
The J&K Constitution, adopted on November 17, 1956, defined a PR as a person who was a state subject on May 14, 1954, or who had been a resident of the state for 10 years and has "lawfully acquired immovable property in the state". The J&K legislature could alter the definition of PR through a law passed by a two-thirds majority.
In 2014, an NGO 'We the Citizens' filed a writ petition seeking the striking down of Article 35 A. While the J&K government filed a counter-affidavit, the Centre did not — despite pleas from the state government, especially the PDP. Last month, Attorney General K K Venugopal told SC that it "raised Constitutional issues" after which the court referred the matter to a three-judge bench and set six weeks for final disposal, leading to an uproar in Kashmir.