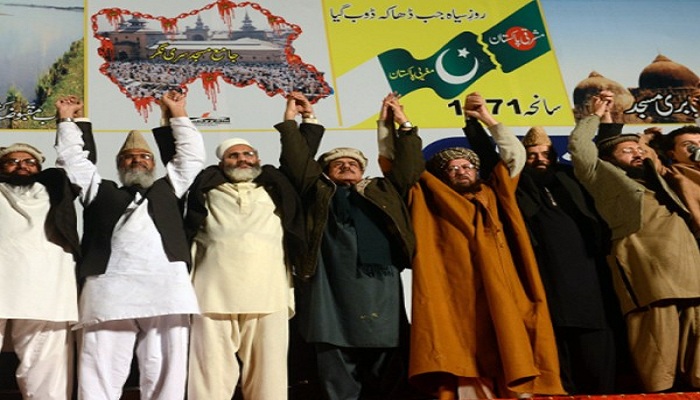 Members of the Difa-e-Pakistan Council have accused the United States of using the Indian Government to wage a war against Pakistan on two fronts.
The council, which met recently in Lahore, strongly condemned the recent threats issued by US President Donald Trump through a televised address to the nation from the White House in Washington.
Council members and their supporters raised slogans against the United States while taking part in a "caravan". They also carried banners that were captioned "Threat of War to Pakistan by US President" and "Friendship with India and Enmity with Pakistan" to emphasize their anger with Washington.
Taking a strident tone and indicating that the United States would expand its presence in Afghanistan, President Trump warned last month that America's enemies would never know Washington's plans in dealing with them. He said that he would not reveal when America would attack, but added that it would if deemed necessary.
He had some harsh words for Pakistan, a key ally, saying Washington could "no longer be silent about Pakistan's safe havens for terrorist organisations."
Trump called on Pakistan to stop providing a safe-haven for terrorists
"We have been paying Pakistan billions and billions of dollars, at the same time, they are housing the very terrorists we are fighting … that must change immediately," Trump added.
He also called on India, to help the United States more with Afghanistan, especially in the area of economic assistant and development.
The caravan was managed by cadres of the Jamaat-ud-Dawa (JuD), who wore black T-shirts with the inscription "Jamaat-ud-Dawa Pakistan Security".
Among those who participated in the event were Hafiz Abdul Rehman Makki and Saifullah Khalid of the Milli Muslim League (MML) Hafiz Ibtesam Ilahi Zaheer (Jamiat Ahle-Hadith), Hafiz Khalif Waleed (TJAK) and Abu Al Hashim (Amir, JuD, Lahore).