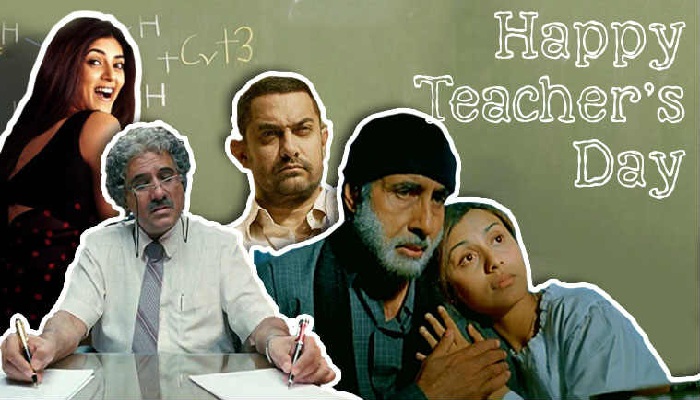 Bollywood film industry has idolized a mother, father, daughter, lover and every human relation in movies. They also didn't forget to idolize the relationship of a student and a teacher, a relationship which is pure and inspirational in every sense.
Movies like Taare Zameen Par, Black, Mohabbatein, 3 Idiots, Chak De India, Dangal among others gave us the perfect mentors on screen.
On this Teacher's Day we try to compile a list of actors who donned the avatar of teachers on screen and gave fans their favourite on-screen teachers:
Aamir Khan in Dangal
Mr. Perfectionist of Bollywood, who played Mahavir Singh Phogat in the sports biopic film, was a father and coach to daughters Geeta and Babita. It was his mentorship which made his daughters bring laurels to the country. He was strict and he cared least when he taught them wrestling antics. More than a father, he was their guide and a mentor who wanted nothing but the best.
But, there was another side too, which was emotional and soft. He massaged the feet of his student-daughters without letting them know and fought with the coach of Geeta when he doubted her capabilities. He was shrewd on the face to make them face the world but inside he was a loving teacher who wished success for his students.
Shah Rukh Khan in Chak De India
The 'king of romance' was seen in the role of a tough and inspiring hockey coach in Chak De India. He was strict and a disciplinarian but only to make the world know that girls can not only play Hockey but can also represent their country on an international platform. He instilled the qualities of team spirit in 16 girls from a varied background in the movie and his '70 minute' speech connected with fans across India. He might be "Aurangzeb" for them but he taught them to conquer the world.
Amitabh Bachchan in Black
In Sanjay Leela Bhansali's Black, Amitabh Bachchan played an eccentric Debraj Sahai who gives hope to a deaf, blind and mute girl played by Rani Mukerji. The film revolved around the relationship of a girl (Rani) with her teacher (Amitabh) who himself later develops Alzheimer's disease.
Aamir Khan in Taare Zameen Par
When Taare Zameen Par was released in 2007, it redefined the relationship between a student and teacher. Aamir's role of Ram Shankar Nikhubh helped dyslexic child Ishaan (Darsheel Safary) find new ways to learn things and restored his belief in himself and his dreams which were shattered by his parents and his other teachers. The film beautifully depicted how a child feels to be yelled at, to be put down, to be ridiculed in his school days.
Boman Irani in 3 Idiots and Munnabhai MBBS
In both the films, Boman portrayed the role of a strict and an aspirational teacher who felt no emotional connection with his students. His character might have been hated in the films but the roles are still the most memorable ones in Boman's career.
Rishi Kapoor in Student of the Year
Rishi Kapoor's role of a college dean might have been not so important in the first half of the movie, but in the end, as he accepts that his ways of putting students against each other were wrong, the actor puts across a strong message that there is no wrong for a mentor to accept his/her mistakes.
Sushmita Sen in Main Hoon Na
Former Miss Universe Sushmita Sen added glamour to the very portrayal of teachers on screen in Main Hoon Na. Playing the role of a college chemistry professor, Sushmita had her students smitten as she strutted in her chiffon sarees' and flowing hair.
Archana Puran Singh in Kuch Kuch Hota Hai
Archana Puran Singh aka Miss Briganza of Shah Rukh Khan-Kajol starrer gave the definition of love to her students and taught the movie buffs that a student and a teacher can be friends as well.
Amitabh Bachchan in Chupke Chupke
Amitabh Bachchan left all rolling on floors with his role of Literature professor Sukumar Sinha who exchanges role with Dharmendra who was a Botany professor Parimal Tripathi. The story of the film takes a hilarious turn as he teaches Botany to Jaya Bhaduri aka Vasudha Kumar. We still are trying to find similarity between the Corolla flower and the vegetable "Karela".
Shahid Kapoor in Paathshala
Shahid Kapoor was seen playing the role of music teacher Rahul Udyavar in Paathshala. His performance of a teacher who is able to unify his students received appreciation.