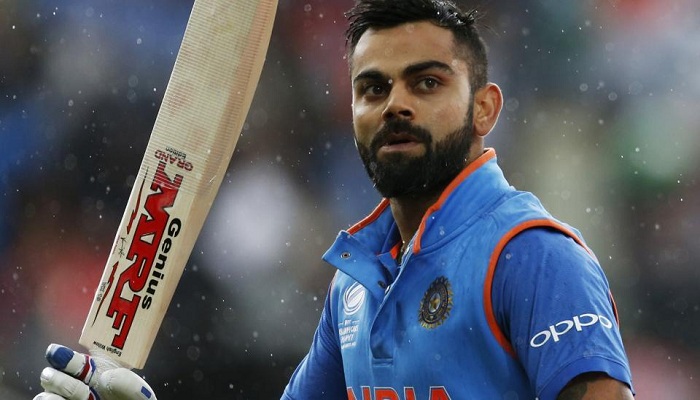 Kohli is the Bradman of limited overs cricket.26 of his 30 one-day hundreds have helped India win matches.
The 28-year-old Indian batsman has a rare ability to win matches for his country. 
His sparkling form with the bat has already given him 30 one-day hundreds as he joined Australian legend Ricky Ponting in second place on the list of ODI century makers recently. 
No prizes for guessing who tops the list, though. 
Of course, it's Sachin Tendulkar who had 49 centuries in his glorious career.
But such has been Kohli's impact on the one-day game that pundits have already begun predicting that he would go on to break his idol's records in one-day cricket.
In fact, if you look at his recent records in the 50 overs game, you will know why everyone is backing Kohli to become the greatest one-day batsman of all time. 
Kohli's average in one-day cricket since the start of 2016 is 92.42. It's the kind of batting average that would have made Don Bradman (52 Tests, 6996 runs, 29 100s, Average 99.94), the greatest Test batsman of all time, proud.
The Indian captain has also been equally prolific in T20Is, averaging 74 since the start of 2016.
Of course, most fans would remember the way Pakistan fast bowling sensation Mohammad Amir dismissed Kohli in the Champions Trophy final. It was a rare failure for Kohli in a tournament where he averaged 129! 
In the ODI series win over the West Indies this year, Kohli averaged 81.33, while in the recent one-day series in Sri Lanka, his average was 110.
No wonder, Kohli is the highest ranked batsman in ICC ODI and T20 rankings. 
And, of course, don't forget that Kohli's greatest strength is not his century-making ability. 
Rather, it's his ability to win matches with the bat with unmatched regularity that has become the stuff of legends. 
He is not just a run machine as 26 of his 30 one-day hundreds have helped India win matches. 
Yes, we are indeed very lucky to be born in the era of Virat Kohli, the limited overs Bradman.