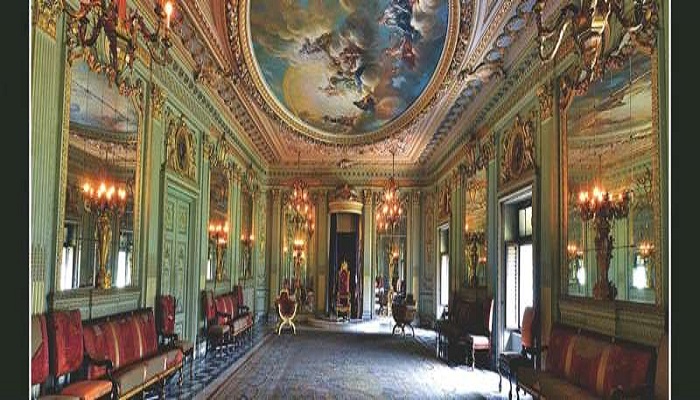 On the face of it, Indore, Madhya Pradesh's largest city, is a booming commercial hub. Its proximity to Mumbai and Gujarat ensures that it is one of the most important centres of economic activity in Madhya Pradesh, and this status is only boosted by its smart city tag acquired in 2015. But Indore has many layers, much like an onion.
The choice of metaphor is apt, since Indore is foodie heaven with places such as Sarafa Bazaar and Chhappan Dukaan dishing out the choicest chaat items. But even food paradise does not describe Indore fully. A palace city, home to royalty, a vast storehouse of Maratha culture and pride, an important religious centre; and you have some idea of what Indore is. Given that it is a city marked by so many influences, there is much to see in Indore.
What to See
Modern-day Indore owes much of its wonders to Rani Ahilyabai (1725-1795) of the Holkar dynasty. A Queen known as much for her administrative abilities as her keen interest in religion and charity, it is her vision that transformed Indore from a near village to the city that it is today.
If you want to see the kind of influence, she, and subsequently the Holkar dynasty, wielded over Indore, you must visit the Rajwada Palace and the Lalbagh Palace that are testimony to the Maratha dynasty's glorious rule. Rajwada was built in 1749 as the royal palace of the Holkars. It is a massive seven-storeyed structure, which is a combination of Maratha, Mughal and French architectural styles. Lalbagh palace built in 1921 stretches across 72-acres and has an even more eclectic mix of influences including Renaissance, Palladian and Baroque elements, rich Persian carpets and grand chandeliers.
Another great example of Maratha architecture in Indore is the Krishnapur Chhattris or cenotaphs built in memory of the Holkar rulers. These are dome-type structures that hold life-size statues of Holkar rulers and resemble umbrellas,hence the name 'chhattris'.
Rani Ahilyabai was a keen builder of temples, and many of them can be found all over the city. Subsequently, Indore became known for its beautiful religious sites. It is in this city that you will find the world's biggest Ganesh statue at the Bada Ganpati temple. From crown to foot, the idol measures 25 feet and is made using a mix of limestone, jaggery, bricks, soil and water from some of the major holy places in the country. Indore is also home to the Kaanch Mandir whose interiors are made entirely of glass. This famous Jain temple boasts of exquisite glass artwork depicting various aspects of Jainism. Jain festivals are celebrated with great fervour at the temple and there is also an annual rath-yatra that happens here.
What to Shop
Once you have decided to visit Indore, make sure you set aside a day for shopping. One of the popular handicraft items you will find here are life-like leather toys that are great for gifting, and even better as funky home decor. Indore's proximity to the city of Maheshwar known for its hand-woven sarees also makes it a popular destination for those looking to buy these ethnic drapes.
What to Eat
Very few cities in India can promise you the kind of street food eating experience that Indore does. At Sarafa Bazaar, a jewellery market that transforms into a food street at night, you will virtually find every street food item that Indore boasts of, a lot of them unique to the city. Some of them are dal bafla, bhutte ka kees, dahi bada and kulfi falooda. Don't forget to try poha with a sprinkling of the famous Indori sev and jeeraman.
Not second to Sarafa Bazaar, is Chappan Dukaan which  literally means 56 shops. When this place was established, there were 56 shops selling food items. While this number may have changed over the years, what hasn't changed is the status of this place as a certified food hub. A special mention here for Johnny Hot Dog that is known for its own unique spin on burgers.
What's around
If you have explored Indore inside out and still have time on hand, there are other places around the city you can explore too. Do try and head to the town of Maheshwar that is just 91 kms away. Situated on the banks of river Narmada, the star attraction in this town is Fort Ahilya, named after the Holkar queen. When you visit, you must pick up the exquisite hand-woven Maheshwari sarees native to this place.
At a two-hour drive from Indore is an island in the shape of 'Om' – Omkareshwar. It is one of the 12 jyotirlingas in India and attracts innumerable Shiva devotees year on year.
If you fancy going back in time, you must visit the city of Mandu. Located at a distance of 100 km from Indore, Mandu is said to have existed since the 6th century. Grand palaces, royal gateways and Afghan architecture come alive at Mandu. Two of the foremost attractions here are the Jahaz Mahal – a palace in the shape of a majestic ship, and India's biggest fort – Mandu fort.
How to get there
Indore, as the commercial capital of Madhya Pradesh, is easily accessible. It is well connected by flight to major cities and the airport is just 8 kms away from the main city. Indore is also well linked to most major cities by rail and road with trains, buses and cabs plying regularly from here.
Indore is a city of many layers, each with a different story. Allow yourself time to experience each of them at leisure. You won't be disappointed.