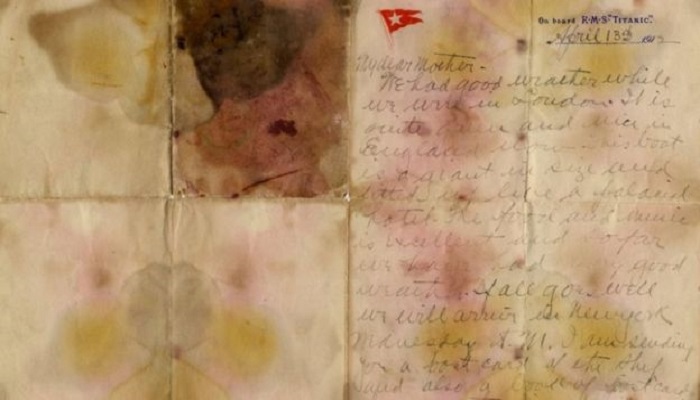 Letter written on headed Titanic notepaper, the day before the Belfast-built ship hit an iceberg, has come under the hammer. It was one of the last known letters to have been written on the Titanic. The letter, written by American businessman and Titanic passenger, Oscar Holverson, fetched £126,000 – a world record price at an auction.
It was sought-after because he wrote it on 13 April 1912 – the day before the Belfast-built ship hit an iceberg.
Mr Holverson, a successful salesman, wrote the letter to his mother while travelling on the ill-fated ship with his wife, Mary. The couple boarded the Titanic in Southampton and planned to travel back to their home in New York.
In his note, the writer seems in awe of his surroundings, telling his mother that "the boat is giant in size and fitted up like a palatial hotel".
Mr Holverson, who has an idiosyncratic style to his syntax, also writes about seeing "the richest person in the world at that time" – John Jacob Astor – on the ship, accompanied by his wife.
"He looks like any other human being even tho (sic) he has millions of money," he adds. "They sit out on deck with the rest of us."
The letter had a reserve price of between £60,000 and £80,000.
Speaking ahead of Saturday's sale, Mr Aldridge said that "even if the letter was virtually blank, it would still rank as amongst the most desirable, such is the nature of the paper, its markings and history".
When the Titanic sank, Oscar Holverson, along with JJ Astor, died along with more than 1,500 people.
Her husband's body was recovered and, inside a pocket book, the letter was found.
It still bears the stains of the sea water and the water mark of the White Star shipping line.
The letter eventually made its way back to his mother.
Mr Aldridge said that makes it "possibly, the only onboard letter written by a victim that was delivered to its recipient without postage".
Mr Holverson was buried in Woodlawn cemetery in New York, unaware that, 105 years later, his unposted letter would generate such interest.
Other items in Saturday's auction included a set of keys belonging to a steward in the Titanic's First Class, which fetched £76,000.
Two previously unpublished photos of the Titanic went for £24,000.
The previous world record for a Titanic letter sold at auction was £119,000, set in April 2014, for a letter written a few hours before the ship hit the iceberg.