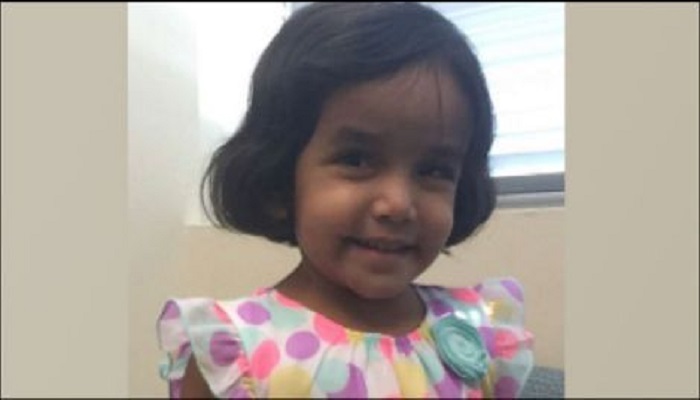 After a long search for the three-year-old girl Sherin Mathews, who went missing for last two weeks Police have discovered a body `most likely' to the girl child. She was reportedly sent outside alone late in the night as punishment for not finishing her milk by her father. The body was found in a culvert beneath a road around 11 am with the help of search dogs. It was found about half a mile from Mathews' house. Police have not released any details about how the child died. However, Police indicated they had no reason to believe that the body of a different child had been found. The identification process was underway.
Sherin Mathews, who has developmental issues and limited verbal communication skills, was last seen outside her family's backyard in Richardson, Dallas on October 7. Sherin's foster father, Wesley Mathews, 37 said to be from Kerala, told police that he put Sherin outside and told her to stand next to a large tree at around 3 am on Saturday (October 7). Some 15 minutes later, Mathews allegedly went to check on Sherin but didn't find her. Mathews admitted to police that he knew coyotes had been seen in the alley. He was arrested on a charge of abandoning or endangering a child. The Mathews' reportedly adopted the girl two years ago from an Indian orphanage.
The body is yet to be confirmed. Police sealed the area for investigation. The medical examiners were working to determine the cause of death.