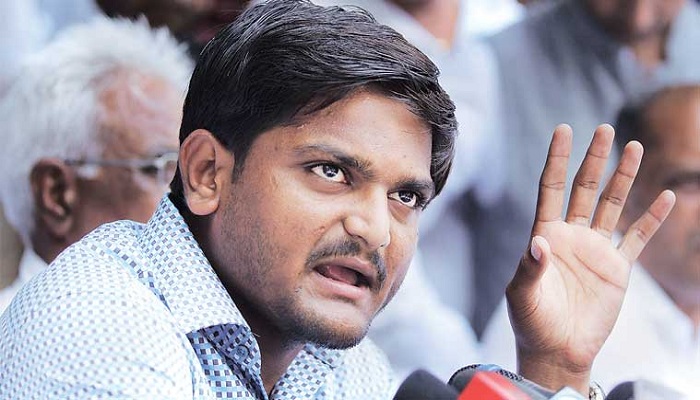 Ignoring denial of permission by the authorities, the Patidar Anamat Andolan Samiti (PAAS) is determined to go ahead with its mega rally in Mansa town in Gandhinagar on Saturday evening to demonstrate the community's support to young leader Hardik Patel, despite the 'sex CDs' on him, in a big worry for the ruling BJP.
There is no mutual agreement between the hardline leader Hardik Patel and the Congress party for the assembly elections in Gujarat next month. Hardik Patel's associate organization Patidar Anamat movement committee (PAAS) and the Congress representative did not find any solution on Saturdays (November 18).
Gujrat's Patidar leader Hardik Patel tweeted on Saturday (November 18th) accusing BJP of canceling the permission for the rally. Hardik tweeted that even after the code of conduct, the order of power goes ?? Today there is a public meeting in Gandhinagar. The collector had given permission for the public meeting, but canceled the permission of the public from the BJP's pressure, from SRP to police, he also dropped the field. In today's public meeting thousands of people are coming to the public.
PAAS leader Hardik Patel has said that in spite of the authorities denied them permission, they will be holding a massive 'prestige rally' in Mansa, showcasing the support the group has among the Patidar community.
In another tweet, Hardik wrote that Gandhinagar District SP has said that all the people who come will be threatened, whatever things will be used in the public meeting, all things will be taken under the police. What is happening is not understood in Gujarat, the police are being used incorrectly.
The Gandhinagar police have denied PAAS permission for the Adhikar Sabha rally, but PAAS is adamant to hold the event with or without police permission.
According to media reports, hearty viral was the talk of the alleged CD at this rally.It was claimed that the person appearing in the video is Hardik Patel. Hardik Patel has already cleared this video for the first time. He had said that the person appearing in that video is not the same.
Alleging that the CDs are doctored and are the handiwork of the BJP, Hardik Patel has threatened to "drop a bigger bomb" on the issue at the rally in Mansa town.
Through this rally, he and the PAAS group also want to convey the message that the entire Patidar community is still with them in their demand for reservation for the Patidars.
The Congress has come out in support of Patel in the CD row. However, the talks between the party and the PAAS leaders in Delhi on Friday seemed to have suffered a setback with the group giving an ultimatum of 24 hours to resolve the reservation imbroglio.
Dalit leader Jignesh Mevani, too, has extended support to Patel.
The rally in Mansa will be a big worry for the Gandhinagar district administration as they had earlier given permission for the rally.