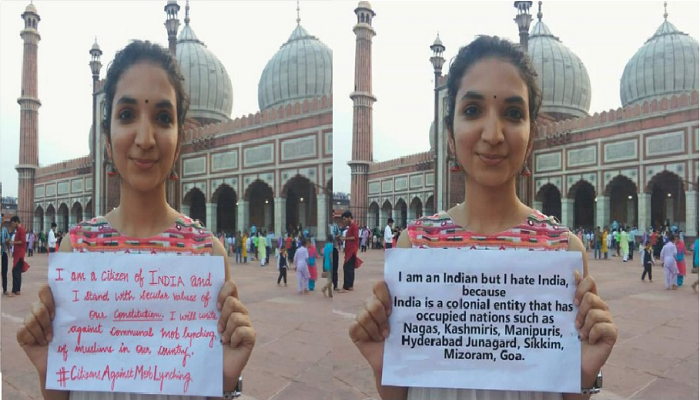 Don't make me a pawn in furthering your agenda : Kawalpreet Kaur to Pakistan
On Saturday Twitter suspends verified account of Pakistan defence team for using morphed images of an Indian girl.
A morphed picture of Kawalpreet Kaur, a DU student activist from All India Students' Association (AISA), surfaced on Twitter.
The image was originally posted by her in June, a day before the #NotInMyName protest in the city. In the original photo, Kawal was seen standing in front of the Jama Masjid, holding a placard which read, "I am a citizen of India and I stand with secular values of our Constitution. I will write against communal mob lynching of Muslims in our country #CitizensAgainstMobLynching."
But in the morphed picture – which was put up on Twitter by a verified page called 'Pakistan Defence' – the message was changed to, "I am an Indian, but I hate India, because India is a colonial nation that has occupied nations such as Nagas, Kashmiris, Manipuris, Hyderabad, Junagard, Sikkim, Mizoram, Goa."
Kawal, who was shocked after seeing the morphed photo, tells us, "I got to know about it on Saturday evening. By then, people had already started commenting on the photo, asking the page to remove the picture. I also asked them to remove it, but instead of removing it and apologising, they retweeted my quote and said that they want me to talk about Kashmir. The page's supporters started commenting that this is also 'freedom of speech'. They do not understand that this is illegal – you can't morph someone's photo to further your cause. I don't want to become a pawn in the 'Anti-India' and 'Anti-Pakistan' agendas."
Kawal says that this is not the first time that the picture was misused. "The photo was taken to draw attention to the incidents of mob lynching, and this is not the first time when this photo has been morphed. Two months ago, another page had morphed it and over the Jama Masjid, they had written 'Ram Mandir yahin banayenge'. I had complained to the Delhi Police and the Cyber Cell, but I did not get any response." she says.
She adds, "I was shocked to see that during the recent incident, the photo was morphed by a verified page. Twitter has suspended the account for now, and if something like this happens again, I will complain directly to Twitter, because I don't trust the police and the cyber laws."