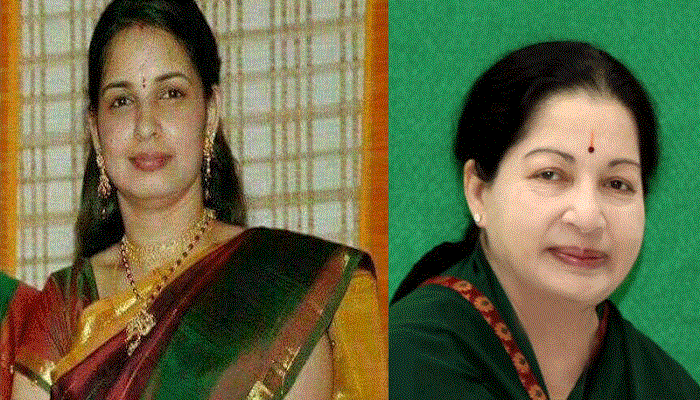 Amrutha, who claims she was adopted and raised by Jayalalitha's sister and now her deceased husband, says she exposed the truth of her birth after Jaya's death.
Amrutha ,a 37-year-old Bengaluru woman has petitioned the supreme court, claiming herself to be the daughter of late Tamilnadu chief minister Jayalalitha. She demanded a DNA test to prove it.
She filed the petition on November 22, and claims she was adopted and raised by Jayalalithaa's sister and her husband says, she exposed the truth about her birth after the death of Jayalalitha on 
December 5
 last year. Jayalalitha died in Chennai due to a prolonged illness. She didn't married and led a fiercely private life.
She was a very successful actress before she enters into her political life. She earned sizable assets in the form of land, house, and jewelry. In her affidavit for the 2016 assembly poll, she declared her assets worth 113 crores.
The AIADMK spokesperson Satyan Rajan refused her statement and said, " We do not even have a clue to what you are saying and asking".
Amrutha claims she was born on August 14, 1980, at Jayalalithaa's  residence in Mylapur but she kept the birth a secret to avoid social stigma and " uphold the dignity of the family as they belonged to a very religious, orthodox and cultured Brahmin family" .
The co-petitioners are Amrutha's two aunts, names LS Laitha and Ranjani Ravindranath. These two women whom the cousins of Jayalalitha, have sought the court's intervention to help Amrutha prove her relationship with Jayalalitha,  which they say was thwarted by AIADMK leader Sasikala.
Sasikala was a close aide of Jayalalithaa for 30 years who set to take over as the chief minister but a guilty verdict in a corruption case smashed her political ambitions. She is now serving time in a Bengaluru prison.
Amrutha claims, she was the biological daughter of the late leader told by the two women were among the close family members.
Amrutha says she was adopted by Jayalalithaa's elder sister, Ahylaja, Who died in 2015. Sarathy, the husband of shylaja died in March this year.On his deathbed, he confessed he was in a relationship with  Jayalalithaa, the petition claims.
Amrutha has also demanded that Jayalalitha's body, buried at Chennai's Marina Beach, be exhumed and cremated in accordance with the Vaishnava Brahmin rituals. Amrutha had earlier made similar claims in a letter to the President, Prime Minister, SC judges, and CBI.