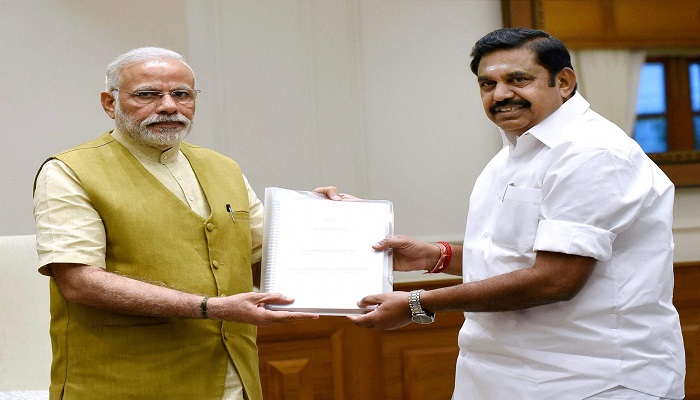 Our Honorable Prime Minister has decided to step in with the hopes of finding a solid solution to the Cyclone Ockhi problem.
Prime Minister Narendra Modi on Friday spoke to Tamil Nadu Chief Minister Edapaddi Palaniswami and assured him that the state will provide all possible assistance in the wake of 'very severe' Cyclone Ockhi, which has wreaked havoc in the coastal areas of the state and neighboring Kerala. 
It has come to light that the Tamil Nadu government might approach the Centre to seek funds for the damage caused by the severe cyclone in the southern parts of the state; Kanyakumari and Tirunelveli districts are the worst hit.
PM Modi spoke over the phone with Palaniswami, where he assured that the government will provide immediate assistance. 
"The prime minister assured to immediately give the required assistance," a release issued post the conversation said.
Modi dialed Palaniswami and enquired about the damage caused by the cyclone, which also battered parts of Kerala, it said.
The chief minister apprised him of the various relief works going on in "full swing" in seven districts of the state and told Modi that Kanyakumari and Tirunelveli were the worst affected.
He listed out various steps being taken, besides deputing senior ministers and IAS officials to oversee the relief work, the release added.
Efforts were being undertaken on a "war footing" while power supply was being restored. The Coast Guard's help was being used to rescue 30 fishermen stranded in the sea even as 76 of them had been already rescued, Palaniswami said.
The state will send a report to the Centre seeking funds after carrying out a detailed assessment of the damage caused by the cyclone, which has crippled life in Kanyakumari district, he told the Prime Minister.
Cyclone Ockhi, which in Bengali means 'eye', has intensified into a "very severe" category storm and has led to a lot of damage, apart from claiming the lives of at least 14 people. While more than 200 fishermen have been rescued, at least 102 are yet to return home. 
Lakshadweep Islands have also suffered massive damage as the cyclone hit the coasts today, leading to property destruction. IMD has already issued a Red warning for the coastal areas of Tamil Nadu and Kerala. Both the southern states have received a lot of rainfall since the storm intensified. 
The state government yesterday said that over 1,200 people affected by the cyclone in Kanyakumari and Tirunelveli districts have been lodged in relief camps.