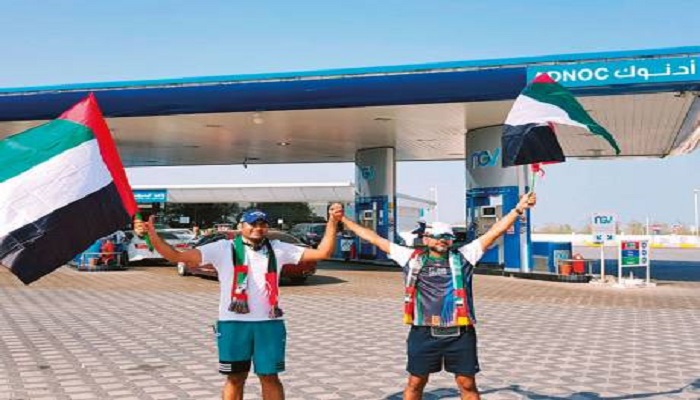 Indian nationals walked 172km between Commemoration Day and National Day
Umesh Goel completed their walk across all seven emirates on National Day, December 2, finishing at the first Adnoc petrol station in Abu Dhabi.
Two expats walked over 170km, passing through all seven emirates, starting on Commemoration Day (November 30) in Fujairah and finishing on National Day (December 2) in Abu Dhabi.
Dubai-based Indian nationals Umesh Goel and Devendra Singh went the distance to "pay our tributes to the martyrs and heroes of the UAE and express our gratitude to the Rulers of Dubai and the UAE for developing this country as a diversified and inclusive melting pot of all nationalities where we enjoy our lives with family and friends".
Goel, 44, and Singh, 32, had set off last Thursday from an Adnoc petrol station in Fujairah. They walked along main roads through Ras Al Khaimah, Umm Al Quwain, Ajman, Sharjah, Dubai, finishing at the first Adnoc station in Abu Dhabi on Saturday.
The duo said they walked virtually non-stop for 27 hours, covering 108km, before taking a long break on Friday. Goel, an "architect by education" and a real estate professional, said: "My wife, kids and close friends walked with me during the toughest last 10km of the first day and made us sail through, despite the fact that we were extremely tired by then and were barely able to walk."
Before the walk, the two expats had spent their Thursday nights training for two months.
In a joint statement, they said: "When we planned this walk, we were venturing into unknown territory. The support of the friends who joined us in the middle of the night and day during the holidays gave us a lot of boost and made the task easier. Some people did stop by on the road and asked us about our well-being and appreciated our effort. These small gestures were much appreciated and they kept on giving us more and more strength."
The duo clocked in a total of 42 hours of walk time to complete the 172km stretch on foot. Goel said: "It's an experience of my lifetime and I see no better way to pay tribute to the country where I have spent the most important period of my life. Thanks everyone for all your support and encouragement. I am still not sure what would come next but I would love to stay inspired and keep inspiring."
Singh, who works for a leading property developer, said: "It was a landmark day for the UAE and we wanted to celebrate this in our own unique manner. Hence, we decided to walk across the entire emirates to celebrate the unity and diversity, which is a major part of what makes the UAE so unique and great."