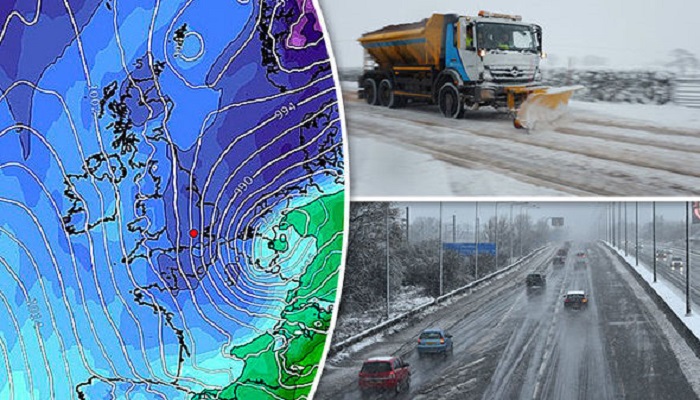 BRITAIN was hit with snow over the weekend causing huge disruption to roads with warnings sounded that freezing conditions could continue throughout this week.
Latest map forecasts show the UK is ready to be hit by another big freeze with temperatures remaining low after Britain was hit by up to 12-inches of snow on Sunday.
In the graph, the cold conditions are seen sweeping over Britain over the coming week.
Britain could even face Arctic conditions up until Christmas Day as wintery showers have been predicted for the next fortnight.
James Madden, a forecaster for Exacta Weather, said: "Cold weather will dominate through the start of this week as north-westerly winds veer across the British Isles.
"Night-time temperatures will be exceptionally cold. This period of cold weather will pave the way for further snow and cold in the run-up to the festive period."
The Met Office has issued further warnings on Monday for snow and ice across Scotland and ice across the south of the UK.
Temperatures could even fall as low as -15C in parts of Britain on Monday night.
Met Office meteorologist Alex Burkill said: "It was chilly in Chillingham Barnes, but it wasn't the coldest night of 2017 – that was Saturday night when temperatures went down to -12.4C.
"We could well beat that tonight and could go as low as -12C and even -15C."
Dozens of flights and hundreds of schools have been closed as a result of the treacherous snowy conditions.
Snow pelted parts of the UK on Sunday causing huge disruption on roads across Britain.
The RAC is also expecting up to 11,000 breakdowns on Monday with Pete Williams, the RAC's road safety spokesman, saying it was 20 per cent above the seasonal norm.