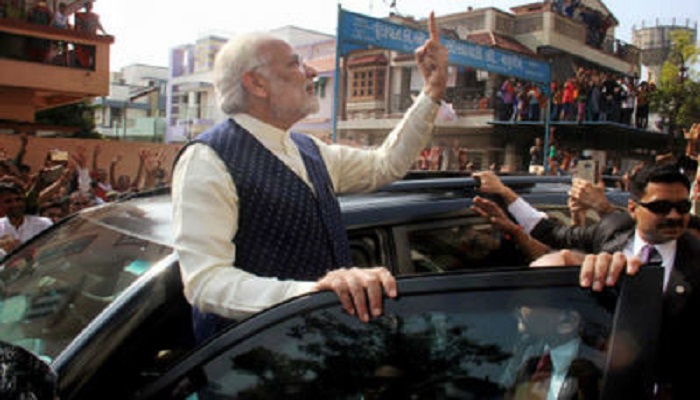 Yesterday, the 14th of December saw the final Phase of the Gujarat polls, along with the Prime Minister casting his vote.
Prime Minister Narendra Modi turned a common man on Thursday as he queued up to cast his vote outside the polling booth at Nishan High School in Ranip locality of Sabarmati a little after noon. A large crowd, waiting to catch sight of Modi, had gathered outside the school.
Thousands of people greeted the PM upon his arrival cheering 'Modi, Modi'. The PM stepped out of his bulletproof SUV a short distance from the polling station.
After reaching the booth he touched the feet of his elder brother Somabhai and shook hands with two other people before going into the booth to vote. He stood in the queue along with seven other people.
Inside, the booth was all decked up in dark pink curtains while polling officers sat behind a table covered in white satin. Modi talked to a few individuals in the queue. Once inside, he greeted the polling booth officer, got his index finger inked, and then proceeded to the EVM to vote. After coming out of the booth the PM walked almost 100 meters while waving at the crowd and showing his inked finger. Later, Modi stood on the footboard of his car and waved to the crowd.
"We have been seeing PM Modi since the 2004 Lok Sabha elections. This is the first time that he has taken his elder brother Somabhai's blessing outside a polling booth. Earlier he used to visit Somabhai's home nearby," said Rakesh Desai, a senior BJP worker in Ranip area.
Somabhai runs a 24-bed old age home in their village in Vadnagar in Mehsana, an almost 88km from Ahmedabad. Meanwhile, Modi's mother, Hiraba, cast her vote at Aryabhatt High School in Sector 22, Gandhinagar. Hiraba, 95, was accompanied by her younger son Pankaj and a few other family members.
After casting her vote, she showed her inked finger to reporters and said, "Gujarat nu bhalu karo," (I have prayed for Gujarat's well-being)." Other BJP heavyweights like Arun Jaitley and Amit Shah also cast their votes on Thursday. While the Union finance minister exercised his franchise in Vejalpur, the BJP president got his finger inked at Naranpura. BJP veteran LK Advani also cast his vote on Thursday, at Jamalpur school.