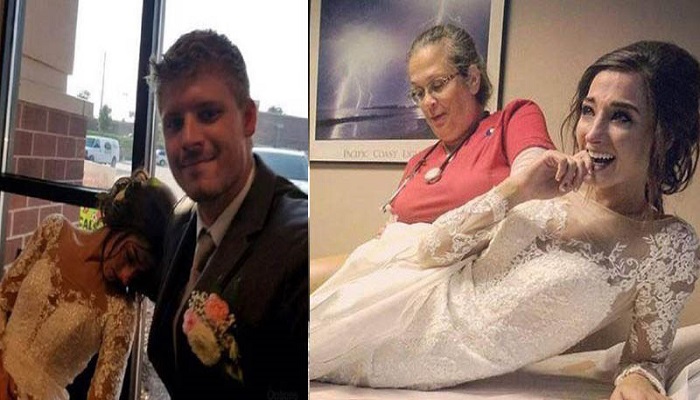 A 23-year-old newlywed Christine Jo Miller recently shared her wedding day nightmare on social media. In a tribute to her home in Nebraska, Miller chose to use a local wildflower in her wedding bouquet. What she didn't know was it's poisonous.
Miller spent her wedding day covered in a red rash with swollen eyes and blurry vision. All due to a mistake from the wedding flowers she chose. Miller suffered through the ordeal and continued with her ceremony. "I was in so much pain. Nobody knew what to do," she said.
 "I literally couldn't see my husband when I was saying my vows because my vision went blurry, So blurry I passed out twice at my reception," she told reporters.
A wildflower was known as snow-on-the-mountain that grows near her hometown of Lincoln, Nebraska. Miller wanted to use the beautiful flowers as a way to pay tribute to her hometown, but she was unaware of their poisonous attributes. She found out the hard way.
The problem came when Miller decided to make her own bouquet. She did not realize the sap from the flowers would cause an allergic reaction. According to the reports, Miller had a trace amount of the flower's residue on her hands when she began washing her face the morning of the wedding. She started having a reaction almost instantaneously.
The poisonous flowers caused severe allergic reactions – so bad she said her eyes were swollen shut before noon. To make matters worse, Miller says her mother drove her to a nearby emergency medical clinic to try and get treatment but had no luck. The clinic was closed. Rushed for time, Miller said she decided to walk down the aisle anyway.
Miller said they ended up skipping portions of their planned wedding activities. They nixed the unity candle ceremony and didn't even play the wedding song as she walked down the aisle.