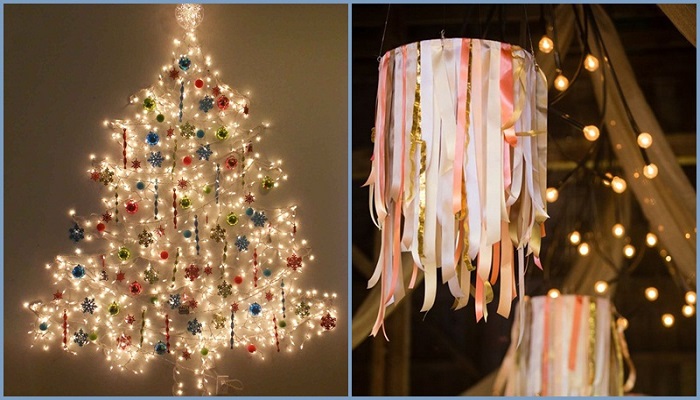 In the countdown of Christmas, you might have already started prepping for the festival. It's the time of the year for family and friends reunions, parties, of being someone's secret Santa, gorging on the festive special desserts, gifts, shopping and of course 'mission decoration'. The only idea of decoration comes up with a never-ending list – Christmas tree, stars, wreaths, cribs, balls, bells, socks, ornaments and more. There are some amazing markets that fulfil our decoration demands. But if you are among those who believe in exploring your creative skills, we have 7 easy and hassle-free Christmas decoration DIYs for you.
Fairy light Christmas tree
Running out of space? Bring home the festival of joy with a simple and quick 2D Christmas tree on your wall. Though we love setting the traditional Christmas tree, creating a space where your family and friends will gather is also important. All you need to do is make a Christmas tree on your wall by using fairy light – make it small, big, green, red or colourful, it is your choice.
Pasta ornaments
Give your Christmas tree a personal touch by decorating it with hand-made pasta ornaments. With different shapes of pasta available you just need to brush it with colours or glitters. With this colourful pasta create beautiful snowflakes, flowers, house, wheels, bells, dolls and more.
Pom pom garland
Pom-pom is everyone's new favourite go to. You just need to get puffy pom poms, yarn and strings to make these beautiful and colourful garlands. This beautiful creation is simple, quick and looks fresh.
Ribbon Chandelier
Wrap satin ribbon of your favourite colour around a wreath form to cover its surface. Take satin ribbons of different colours and cut them into different lengths. Now knot the pieces of ribbon around the wreath. Your ribbon chandelier is ready. To make it more appealing surround the chandelier with fairy lights.
Twigs Snowman Wreath
Welcome your guests with easy to make adorable snowmen wreaths. These cute snowmen wreaths are made of 3 items – twigs, balls and ribbons. Dress the snowmen in a hat and scarf. Tie it to your front door.
Santa & Reindeer Garland
Take a cardboard and stick colour paper on it. Trace reindeer and Santa onto a cardboard and cut it out. Make sure you are gentle with the antlers as they are fragile. Now wrap a ribbon around the reindeer and Santa's necks and hot glue it on a lace to make it a garland. Adorn it with glitter, bells and balls.
Christmas Mason Jar Candles
Mason Jar has come a long way. Today the use of the jars are not just limited to the kitchen. These jars are also used in decoration purpose. Wrap the jar with narrow ribbons and jute strings. Hot-glue glitters to the bow. Fill the jar with berries or beads and place a candle inside it.