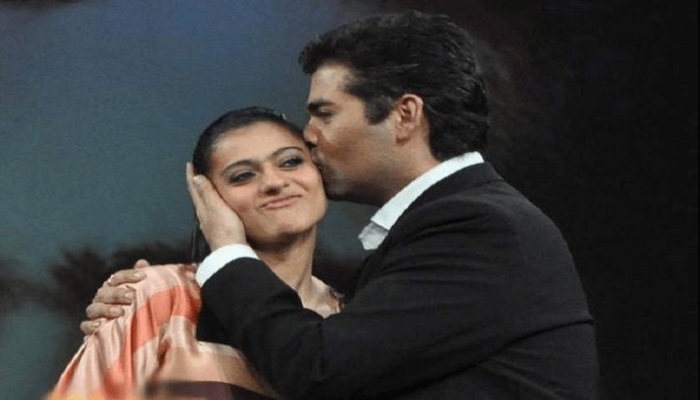 The Bollywood film industry has its own share of controversies every year. Every month, every week and every day sees one major development or argument building up in Bollywood, and most of the times, we see the same names being dragged into controversies. There were some shocking new entrants in the list of controversies and bad PR this year. Here's a list of a few major controversies of 2017.
This was the biggest shocker of the New Year when Karan Johar released his biography 'An Unsuitable Boy'. He wrote: "The problem was actually never between her and me. It was between her husband and me, something which only she knows about, he knows about, and I know about. I want to keep it at that. I don't really want to say what transpired. But I did feel that she needed to apologize for something she didn't do." Later on Kajol congratulated him on the birth of his twins Roohi and Yash, and the duo is now friends again.
January 20, 2017: Harshwardhan Kapoor Filmfare Award Controversy with Diljit Dosanjh
Harshvardhan picked a couple of best debut awards in a few award ceremonies but lost the Filmfare Award for Best Male Debut to Udta Punjab's Diljit Dosanjh. And what was really surprising that Harshvardhan Kapoor showed his resentment over the decision, with the actor feeling that Diljit Dosanjh shouldn't have won the award. He tweeted: "Don't feel entitled to any award, I'm questioning the principle of who is a newcomer, have zero problems losing to a genuine newcomer." Harsh later apologized to Diljit for this.
January 2017: Raees Versus Kabil Clash at the box office
Shah Rukh Khan clashed with Hrithik Roshan and both had something to lose and gain in this battle. While Kabil got better reviews from both critics and audiences, Shah Rukh Khan's Raees won the box office race, although both crossed 100 Crores at the box office. Analysts said that Kabil had the last laugh because of Raees underperformed.
January 28, 2017: Attack on Sanjay Leela Bhansali on the sets of Padmavati
Bollywood director Sanjay Leela Bhansali's team has issued a statement a day after he was attacked by the Shree Rajput Karni Sena on the sets of his upcoming film Padmavati in Jaipur for allegedly distorting historical facts: "Sanjay Leela Bhansali has shot two films in Jaipur and despite his love for Rajasthan, for the safety of his crew, we have decided to stop the shoot and leave the city post the shocking incident where miscreants damaged property and misbehaved with the crew on the shoot of Padmavati."
February 23, 2017: Lipstick Under My Burkha
After complications with Jai Gangaajal, featuring Priyanka Chopra, his latest Lipstick Under My Burkha is struggling to get 'U/A' certificate. Censor Board's Examining Committee rejected the flick on the grounds of continuous sexual scenes, abusive words and audio pornography.
March 14, 2017: Nepotism Debate on Koffee With Karan With Kangana Ranaut
Kangana Ranaut finally made it to Koffee With Karan and told Karan Johar point blank that he is the 'Flagbearer of Nepotism' in Bollywood. That episode sparked massive online debate and Karan is still accused of Nepotism.
March 16, 2017: Mira Rajput's comment on Motherhood
Just a few days after Kareena started working post pregnancy; Mira Rajput went to an event as a guest and said, "I wouldn't want to spend one hour a day with my child and rush off to work. Why did I have her? She is not a puppy, you know. I want to be there for her as a mother, seeing her grow up has, cannot be quantified." She received a lot of flak for this comment and Shahid Kapoor had to cover up for her.
April 16, 2017: Sonu Nigam's controversial tweet on loudspeakers
On April 16, singer Sonu Nigam made a statement on Twitter against the use of loudspeakers for 'azaan', the call to prayer in mosques. His comments didn't go down well on the internet, where he was accused of being insensitive towards Muslims. On Tuesday, he posted another tweet saying that he stood by his earlier remarks.
May 17, 2017: Kangana's credit as the scriptwriter of Simran
The controversy erupted when Apurva Asrani (co-writer) wrote a long Facebook post, expressing his shock. He acknowledged that Kangana had "improvised" some of his dialogues, and "those improvs were excellent". But before that, he wrote: "Ms. Ranaut has been claiming in several interviews that Hansal Mehta, the director of Simran, approached her with just a one-line screenplay of the film. She says that the story was [a] dark & gritty thriller at that stage and that she herself developed it into a light, fun film. This completely discredits me and my efforts, and I have to call out this lie at the cost of so many of her fans turning against me."
July: Priyanka Chopra's Dress Controversy with PM Narendra Modi
During a meeting with Prime Minister Narendra Modi on May 31 at Berlin, actor Priyanka Chopra faced lots of trolling and criticism for her knee-length dress that exposed her legs. Later Priyanka put out a picture along with her mother on Instagram captioning it: "legs for days".
August 11, 2017: CBFC Chief Pahalaj Nihalani replaced by Prasoon Joshi
Pahlaj Nihalani was removed as chief of the Central Board of Film Certification (CBFC) and replaced by noted lyricist Prasoon Joshi. Nihalani, whose tenure as CBFC chief was marred by controversy, was removed from his position. Joshi, a Bollywood veteran, and CEO of McCann World group India and Chairman (Asia Pacific) replaced Pahala.
August 25, 2017: Sidharth Malhotra's insensitive tweet
Sidharth Malhotra's 'A Gentleman' released around the time when Godman Saint Gurmeet Ram Rahim Singh Ji Insaan was arrested in Haryana on charges of rape and misconduct. The actor accidentally ended up tweeting: "To all the people of Haryana, please stay safe. Hope you can see our film soon #Agentleman #PeaceAndLove." He was trolled for this insensitive tweet.
August 30, 2017: Kangana's explosive interview on Aap Ki Adalat
Kangana came on Rajat Sharma's Aap Ki Adalat where she spoke about this episode. Kangana said, "Usko (Hrithik) yahaan bulaaiye aur poochiye, because maine notice nahi bheja tha (Call him here and ask him because I did not send any notice)."
September 22, 2017: Mahira Khan and Ranbir Kapoor's viral picture
Pakistani actor Mahira Khan met Bollywood star Ranbir Kapoor in New York in July but the photos from their meeting made their way on to the internet on Thursday. Since then, there are only two things anyone could care about: the actors' alleged affair and how Mahira was seen smoking in a backless dress.
While most are hopeful of a budding romance between the two, the 'haya (shame) brigade' has taken it upon itself to shower Mahira with unwarranted judgment over her dress and lifestyle habits. They accused her of "destroying Islam" and challenging her to "be herself" in her home country.
October 2017: Nawazuddin Siddiqui's controversial book launch
An Ordinary Life, which was released on October 25, ruffled many feathers in the industry for the 43-year-old star's sensational revelations of his multiple affairs and one-night stands. The most controversial of these include a chapter on Nawazuddin's torrid affair with his Miss Lovely co-actor Niharika Singh. After the book was released, an upset Singh didn't mince her words and claimed that he obviously wanted to sell his book and it would appear that he is willing to exploit and disrespect a woman. He later withdrew the book.
October 5, 2017: Hrithik's statement on Kangana's interview and allegations
Actor Hrithik Roshan spoke for the first time spoken on his feud with Kangana Ranaut. He not only reacted to the allegations that Kangana leveled at him but also maintained his stance that he has never even met her in person, leave aside being in a seven-year-long relationship. The actor, however, he cleared that besides working with Kangana in two films — Kites and Krrish 3 — he has no connection with Kangana.
October 16, 2017: Akshay Kumar's sexist comment against Mallika Dua
Comedian Mallika Dua, and her father, veteran journalist Vinod Dua, lashed out against actor Akshay Kumar on social media in response to an inappropriate, sexist comment Akshay allegedly made against Mallika while shooting for 'The Great Indian Laughter Challenge', which Akshay is a judge of. The comment, which was edited out from the telecast of the episode, can be seen in a video that has mysteriously leaked after Mallika was sacked from the show as a mentor, for poor audience ratings.
November 2017: Padmavati Controversy
Sanjay Leela Bhansali's Padmavati has been a victim of major controversies right from the beginning when the movie went on the floor. Rajput clan and Karni Sena across many states in the country have been protesting against the concept of the movie, alleging that SLB has distorted facts in his historical drama, damaging the image and traditions of Rajputs. The sets have been vandalized, SLB himself was manhandled, the cast is being threatened by attacks and many protestors are calling for a worldwide ban on the movie.
December 2017
Zaira Wasim's Controversies
Zaira Wasim's problems didn't end this year because she got caught in controversies twice. Firstly she was criticised for being a Kashmiri (which is a conservative territory) and doing a revolutionary movie like Dangal. Secondly, she was molested on a Vistara flight by a man, about which she made a viral post with all details and the man got arrested.