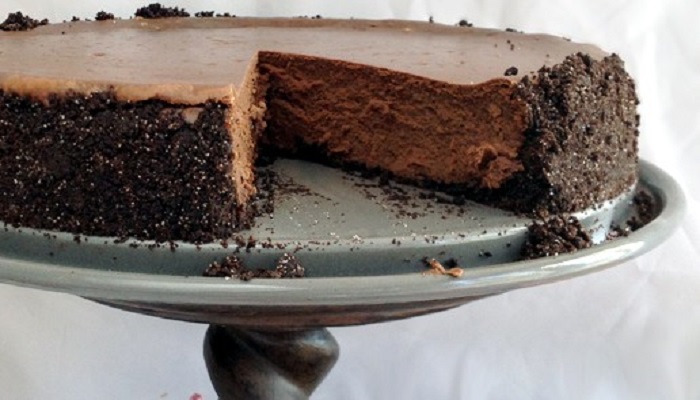 What happens when you mix coffee and chocolate together? You get a delicious cake. Check out this delicious recipe for Christmas. 
Midnight Mocha Cheesecake
This indulgent cheesecake recipe is perfect for those who crave a little coffee with their sweet treats.
TOTAL TIME: 2:20
PREP: 0:15
LEVEL: Easy
SERVES: 16
Ingredients
2 c. gluten-free crispy chocolate cookie crumbs
4 tbsp. butter
2 tbsp. sugar
1 c. sugar
.13 tsp. salt
8 oz. bittersweet chocolate
¼ c. cold strong coffee
1 tbsp. instant espresso powder
1 tsp. vanilla extract
3 package cream cheese
¼ c. unsweetened cocoa
4 large eggs
Directions
Preheat oven to 325 degrees F. Spray 9-inch springform pan with nonstick cooking spray. In a medium bowl, combine crumbs, butter, 2 tablespoons sugar, and 1/8 teaspoon salt; transfer to prepared pan. Press into even layer that comes up the side of the pan slightly. Place on rimmed baking sheet. Bake 10 minutes. Cool completely.
Meanwhile, in a small microwave-safe bowl, microwave 6 ounces chocolate on high in 30-second intervals or until mostly melted, stirring in between; let cool. In the small bowl, stir together coffee, espresso powder, and vanilla. With the mixer on medium-high speed, beat cream cheese until smooth. Reduce speed to low. Beat in cocoa and remaining 1 cup sugar, scraping down the side of bowl occasionally. Beat in coffee mixture. Increase speed to medium. Add eggs one at a time, beating well between additions, scraping down the side of bowl occasionally. Beat in melted chocolate just until well mixed. Pour batter into cooled crust. Bake 50 minutes on rimmed baking sheet.
Turn oven off and prop the door open with a wooden spoon. Let cheesecake stand in oven 1 hour. With small icing spatula or knife, loosen side of cheesecake from pan. Refrigerate, uncovered, 2 hours or up to 2 days.
When ready to serve, loosen cheesecake once more from the side of pan; remove springform ring. In a small microwave-safe bowl, microwave remaining 2 ounces chocolate on high 30 seconds or until just melted, stirring. Drizzle over cheesecake.
Tips & Techniques
Note: 2 hours 20 minute cook time does not include cooling and chilling.