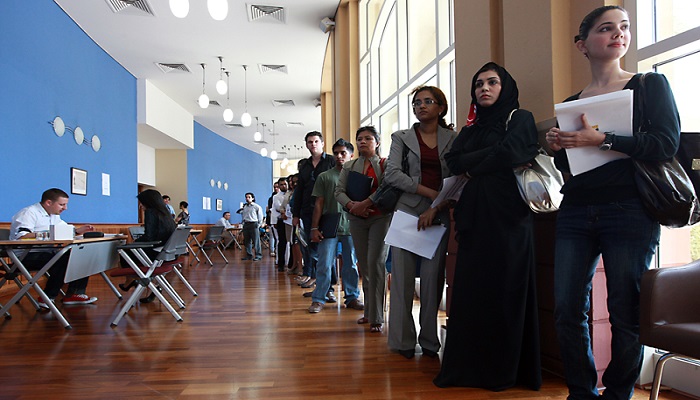 Although the United Arab Emirates (UAE) is still facing some economic challenges, particularly in relation to fluctuating oil prices and global oversupply, the situation is improving.
Concerns about dependence on oil and growing inflation mean that diversification is top of the UAE's agenda for its long-term strategy for success and stability, as well as a move to create more opportunities for nationals.
Sometimes we run into opportunities in the most unusual of ways. Whether it's a hunt for a new work opportunity or you are prowling better job prospects, explore creative ways to land that dream job.
A recent Indeed.com survey shows 61 percent of employers plan to hire more people in 2018 than in 2017 and 40 percent are worried about finding enough good people to fill those openings.
The survey reveals that not just tech and healthcare firms but a diverse group of industries plan to be on the hunt, with architecture, engineering, IT, telecom and professional service firms at the top of the list.
In UAE, the recent trends reveal that several firms in Dubai are looking to hire professionals in the fields of marketing, engineering and medical. And they are offering attractive salaries!
The imposition of 5 percent value-added tax from January 1, 2018, and the upcoming Dubai Expo 2020 brighten the job prospects, especially in fields such as legal, tax, accounts and finance, and human resources. Most demands for jobs in the said fields will arise from pharmaceutical, FMCG, retail, hospitality, construction and boutique investment firms.
So the Dream job is near you … Here are some easy tips to help you get a job next year in UAE.
1. Reconnect with old friends and colleagues
Use your Holidays to make in touch with your old friends and colleagues.This will help you be on top of mind if your friends hear about opportunities that might be a good fit for you. Also, send out holiday cards to people who have helped you professionally over the past year.
2. Say "Yes" to the office holiday party
In a LinkedIn survey, nearly half of professionals said attending the office holiday party had a positive impact on their career. They learned about job opportunities and enjoyed face time with executives they wouldn't have chatted with otherwise.
3. Refresh your LinkedIn profile
With so many companies and nonprofits looking to fill positions, more recruiters than ever will likely be active on LinkedIn in the coming months.
4. Update your resume
It's a good idea to do this at least once a year, even if you don't expect to be involved in a job search. That way, you'll be able to respond in a timely fashion if you hear of an opportunity.
5. Sign up for automatic job alerts
This will let you be the first to know when the job you want opens up. To activate alerts, visit a few of your favorite job boards and create alerts for selected job titles, keywords, and companies.
6. Google yourself and clean up any digital dirt
Run a Google search on your name to ensure that your digital footprint is recruiter-ready. Scroll down to at least four pages to see what appears. If you find content that concerns you, make an effort to have it removed.