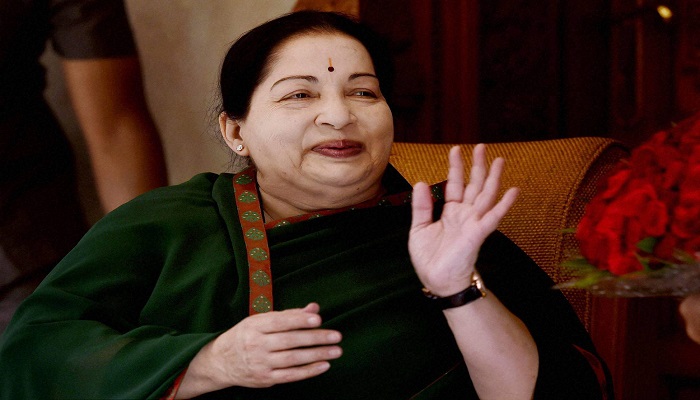 Just a day before the RK Nagar polls, this video of the ex-Chief Minister was released. Here are the details of the video. 
 A day before the crucial RK Nagar by-poll, the TTV Dinakaran faction of AIADMK has released a purported video of former Tamil Nadu Chief Minister J Jayalalithaa.
In the video, the former AIADMK supremo is seen holding a glass and drinking from it. 
The RK Nagar seat was represented by Jayalalithaa before she passed away in December last year. She was admitted to Apollo Hospital after complaining of chest pain and the mystery over her death has evoked allegations, insinuations of foul play.
"Many have been asking how the video was shot. This was taken after she was moved from the ICU by VK Sasikala. I have released this video without consulting TTV Dinakaran or Sasikala. The merged AIADMK faction has been raising questions over Jayalalithaa's hospitalization and I wanted to put an end to all conspiracy theories," said MLA S Vetrivel, who released the purported video of the former CM.
The release of the video, just ahead of the by-poll, can be viewed as an attempt by the Dinakaran camp to clear the air over Jayalalithaa's death, which is already being investigated by a judicial commission. 
After Jaya's death, the Sasikala camp and the OPS-EPS camp has had a bitter parting and RK Nagar by-poll is being viewed as a test case by the two factions to claim her political legacy.
Dinakaran had earlier claimed that he has videos of Jayalalithaa watching television at Apollo hospital had been recorded by VK Sasikala – a close aide of the ex-CM, now serving a sentence in a corruption case. TTV made those comments after Tamil Nadu's forest minister Dindigul C Srinivasan admitted he had lied about Jayalalithaa's improving health. 
"We have video recordings but we didn't want to degrade her (Jayalalithaa's) dignity as she was wearing a night dress. My aunt (Sasikala) didn't permit us to use it except for a judicial probe. She had shot a video of Jayalalithaa watching television," he said, adding that he is ready to hand over the footage to the judge who would probe Jayalalithaa's death.