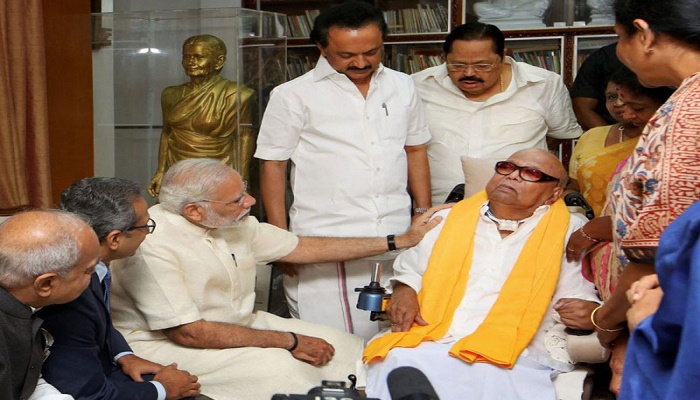 The acquittal of 2G accused+ is a setback to BJP as the party has made this a major issue against Congress, the verdict may open the door to a rapprochement with old ally DMK in terms of the potentially fluid political situation in Tamil Nadu.
Ever since Prime Minister Narendra Modi visited ailing DMK patriarch M Karunanidhi + at his Chennai residence last month, there has been speculation about BJP opening options with DMK. The court observations indicating the PMO and its officials provide some fodder for NDA to corner the Congress which has seen the acquittal of the 2G spectrum accused as a major reprieve.
DMK leader D Raja had claimed that he had kept then PM Manmohan Singh in the loop and blamed Congress for "failure" not to sense the "political conspiracy" to unsettle the government of the time. "It was regrettable that the government (at the Centre) itself was unable to figure out that the spectrum issue got caught in a conspiracy to defeat the UPA coalition government," Raja said on Friday.
Without specifying who was behind it, Raja fell short of naming the UPA, which had DMK as an ally when the spectrum issue surfaced. "It does not require extraordinary intelligence to understand that hegemonic forces which decided that it could no longer tolerate the national political clout of the DMK should have been there (behind the alleged conspiracy)," he said.
Raja's statement seems a veiled attack on the section of Congress leaders as he and others from the party had to resign from the Manmohan Singh ministry and were jailed later on the charge-sheet filed by CBI.
Judge OP Saini has observed: "It was not A Raja, but Pulok Chatterjee, in consultation with T K A Nair, as he had suppressed the most relevant and controversial part of the letter of A Raja from the then Prime Minister."
'You protected me like a baby in mother's womb,' Raja says in his letter to Karunanidhi
CBI had alleged that Raja had misled Singh in his letters on several key issues related to the policy of grant of 2G spectrum licenses, including 'first-come-first-served' and the cut-off date.
With spotlight shifting on PMO officials Pulok Chatterjee and TKA Nair from DMK leaders A Raja and Kanimozhi, BJP finds itself in a better position to consider the alliance with DMK than AIADMK, which has disintegrated after the demise of its founder J Jayalalitha.
BJP maintains that the CBI court order should not be seen in the light of political implications in Tamil Nadu politics.