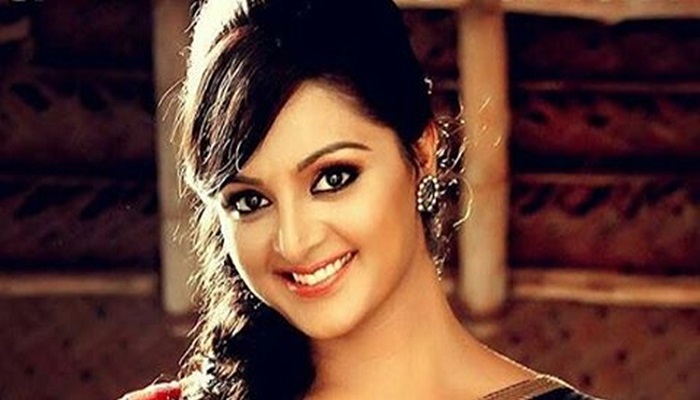 Manju Warrier stood behind the stage in Kerala's Guruvayur temple, growing cold with nervousness. She was dressed in pink-and-blue silk, with her hands and feet lined in red. It had been nearly 14 years since she had faced the audience as a dancer. This was supposed to have been a small, intimate performance — her way of making an offering to Guruvayurappan. But word had got around in the small town of Guruvayur. The actor, who had bewitched Malayalis and then abruptly disappeared into retirement at the age of 19, was going to be on stage — and people had simply trooped in to see her on that October evening in 2012.
As she heard the rising hum of people, she began to worry that her stamina would fail her, that she would forget all her steps. But, at the end of that performance, the audience was delirious, as they called out her name over and over again.
The memory of that evening warms Warrier even five years later. Her voice appears to tremble, and the usually unflappable actor is momentarily overwhelmed. "I had never experienced anything like that before," she says, midway into our conversation at the coffee shop of the Crowne Plaza Hotel in Kochi. Warrier is seated on a couch that invites languor, but her back remains impressively straight throughout. It's the poise of a dancer, honed through years of discipline. "The organizers told me that the last time such a large audience had gathered there was for a kacheri (concert) by Dasettan (Yesudas) a few years ago."
Two years after the endorsement of that Kuchipudi recital, Warrier returned to Malayalam films. A female actor who forsakes her career for marriage and home is hardly a rarity in Indian cinema. Warrier was 16 when she began acting and 19 when she bowed out after a glorious three years. It's the second coming that has been exceptional. She returned to cinema after 16 years at the age of 34 and found that her audience was still waiting for her.
The Malayali film-watchers love for Manju Warrier is something else. There have been other talented women actors before and since her — names like Urvashi, Revathi, Shobhana, and Parvathy come immediately to mind — but something about the 38-year-old inspires a lasting ardour. Perhaps, it is because her success was instantaneous and immense, and yet she walked away from it. "She was at the peak, and people couldn't understand why someone so talented would choose to leave when she was so young," says filmmaker Kamal. Or, maybe, it was the intrigue about her marriage to co-actor Dileep — rumors that he had made her quit films and that her parents had disapproved of the match. Or it could be her homespun appeal, of being the girl next door. "It's not a fortune that too many people have," says Warrier. "Even now, wherever I go, old ladies come and kiss my forehead. That they have the freedom to come and hold my hand, say that I'm praying for you — that's not a thing you do with a 'star'."
When she returned to the screen in a lead role in Rosshan Andrews's How Old Are You in 2014, the fans were ecstatic. In the film, Warrier played a 30-plus woman, Nirupama Rajeev, an upper division clerk in a government department, struggling with a mid-life crisis and ageist assumptions about her abilities. The film ran to packed houses for weeks and was one of the best performing Malayalam films of the year. "It's not easy to return after so many years and turn in a great performance. Manju did it. When we were shooting, only Nirupama would be on the sets. Manju would stay back in the hotel room. She's like water, taking the shape of the vessel," says Andrews.
When Warrier went to watch the film at a theatre in Kochi, a few days after the release, she says she was moved. "I don't know why people have this special place for me in their hearts, but I pray that it stays forever," says Warrier.
It is fitting that Warrier should have returned to the limelight through a dance performance. It was her undeniable skill as a dancer that first caught the eye of the Kerala public and shot the then 16-year-old to almost instant stardom. Warrier has her mother Girija's passion for dance to thank for that.
"As a child, my mother wanted to learn dance, but her family was strict and didn't approve of sending young girls out of the house. So, years later, when she could, she enrolled my elder brother, in a dance class, although he didn't have much interest in it," she says.
Family lore has it that when the child Manju — far too young to be able to dance properly — saw her brother listlessly practicing his moves at home, she tried to imitate him. "My mother saw that I had a sense of rhythm, and she slowly began pushing me to dance," she says. Over the years, the young girl's dance education became a priority. Warrier recalls that whenever the family moved to a new town because of her father Madhavan's transferable job at a finance company, her parents would look for a good dance teacher before they found a school for the children. "We are a very middle-class family and when I was young, there were financial constraints. Still, some money would always be set aside to pay my dance fees and programme expenses," she says. The family eventually settled in Kannur, Kerala, where Warrier finished her schooling.
Warrier was a natural at the dance. In the fiercely competitive annual Kerala School Kalolsavam, or Youth Festival, she was easily one of the best dancers to have graced the stage. Some of the most popular stars in the Malayalam film industry, such as Vineeth, Kavya Madhavan, Navya Nair and Divya Unni, have been "discovered" at the Kalolsavam. For Warrier, too, it was the perfect launchpad. She made her film debut in Sakshyam (1995), directed by Mohan, one of the most important Malayalam filmmakers of the time.
Over the next four years, Warrier appeared in 20 films, playing roles that soared in popularity and critical acclaim. Malayalam cinema in the '90s was in thrall to the image of the macho male lead — as played by Mohanlal, Mammootty and Suresh Gopi. But that the teenager could hold her own on-screen against these actors was proof of her effortless talent. Before she turned 20, the actor was unofficially the "female superstar" of the Malayalam film industry, having played demanding roles in movies such as Sallapam (1996), Thooval Kottaram (1996), Ee Puzhayum Kadannu (1996), Kaliyattam (1997), and Summer in Bethlehem (1998).
The year after her film debut, she won the first of four Filmfare Awards in four years, for her role as Anjali, one half of the star-crossed central couple in Ee Puzhayum Kadannu (1996). Her other Filmfare Awards came for Aaram Thampuran (1997), in which she acted opposite superstar Mohanlal as the feisty Unnimaya, followed by Kanmadam (1998) in which she played the tough-as-nails Bhanu, again opposite Mohanlal, and Pathram (1999) in which she played an idealistic journalist. By the time she was cast in Kannezhuthi Pottum Thottu (1999), there was no doubt in anyone's mind that Warrier was a phenomenon. Few others could have pulled off the role of Bhadra, a young woman who plots revenge against the man who murdered her family, with the effortlessness that Warrier conveyed.
Kannezhuthi Pottum Thottu was a sign of bigger, meatier roles to come. Except, that did not come to pass. Warrier announced her retirement, following her whirlwind romance and marriage to Dileep, a fellow actor with whom she had worked in four films. Warrier, to date, insists that the decision to quit had been hers and that she had been happy to be a stay-at-home wife and mother. She is, Warrier says, the kind of person who is happy in almost every situation she is in.
"Even when I was not working, I was completely happy. It's not that I'm trying to 'adjust'. I fall into place wherever I am. The three years that I worked were hectic, but I enjoyed them. After I got married and did absolutely nothing, I was still happy. Even now that I've started working again, I'm happy."
Warrier's personal life has been fodder for gossip for years. She has coped by protecting her private life as fiercely as possible, politely declining all questions that verge on the personal, especially since her divorce from Dileep in 2015. The split was ugly and many called Warrier a "bad mother" for not seeking custody of her daughter, Meenakshi. She did not react, except for an open letter she posted on Facebook where she asked for an end to the innuendoes. "I am starting anew… In a way, a rebirth. I know better than anyone else that the success of a movie is not the yardstick for success in life."
Warrier couldn't have begun anew at a better time. Roles for women in Malayalam cinema once conceived only in relation to that of the male lead, became more complex and pivotal. As a young actor, Warrier had played strong women who were, nonetheless, seen as complete only when they united with the male lead. In this stint, she has done films like C/O Saira Banu (2017) and Udaharanam Sujata (2017) that put her character at the front and center of the film. She will next be seen in Aami, a biopic about the writer Kamala Surayya directed by Kamal. Vidya Balan was to have played the lead, but when she suddenly pulled out, the role went to Warrier. "I knew she had what it took to pull off the complex role," says Kamal. "My only concern was that physically, she is quite different from Madhavikutty (Kamala Surayya), but those dissimilarities stopped mattering because Manju became the writer."
Aami will be a test of her well-known ability to "become" her character. Warrier went into the project with only a couple of weeks to prepare for it. "I came to understand her better. I met her family and they would tell me details about her life, what she liked, the ornaments she loved to wear. But I still feel that no one ever understood her fully. She remains a mystery," she says.
Aside from movies, dance keeps her busy, as does her work with funding the dance education of underprivileged children and building houses for them. Whatever free time she has, she spends with family — home for her is with her parents, in Pullu, the "small village near Thrissur where everyone knows each other". Warrier won't talk about her daughter, and neither will she talk about her husband, who married another co-actor, Kavya Madhavan, last year. She's moved on.
Not that it has been made easy. In February this year, a Malayalam film actor was kidnapped and assaulted in a moving car while on her way to a shoot. At Kochi's Durbar Hall immediately after the incident, when the Malayalam film fraternity had gathered to express in solidarity with the survivor, Warrier had alleged that a conspiracy was behind the attack. The special investigating team eventually named Dileep as an accused in the case. It was alleged that he had masterminded the attack since he believed that the survivor had driven a wedge between him and his ex-wife. Warrier herself has been named as a key witness, along with over 50 others from the industry.
Since the attack, Warrier has become part of the Women in Cinema Collective which was formed as "a platform for women in the industry to come together, be there for each other and solve any problems that may be there." One of the problems they want to address is that of sexual harassment and women's safety. She herself, Warrier says, has never experienced harassment but she knows women who have.
Nothing that has happened in her life so far has been "planned" — her film career, sabbatical or her comeback. "Everything just happened," she says, of her early years as an actor. "One film after another came to me. I don't even remember having to discuss what to do next." She's more involved with her movies now, understanding the process of filmmaking better, but, as a teenager, she simply enjoyed being on the sets and being "part of the family".
She has also become more discerning about choosing her films, picking roles that challenge her in different ways. Her next three releases are all vastly different from anything she's done before. After Aami, Warrier's first biopic, she will be seen in Odiyan, a fantasy thriller based on Kerala folklore about men with shapeshifting abilities, in which she appears alongside Mohanlal and Prakash Raj, and Mohanlal, a comedy about the superstar's biggest fan played by Warrier.
"People have come to me and asked whether I would be interested in playing a villain. And I say, why not?"