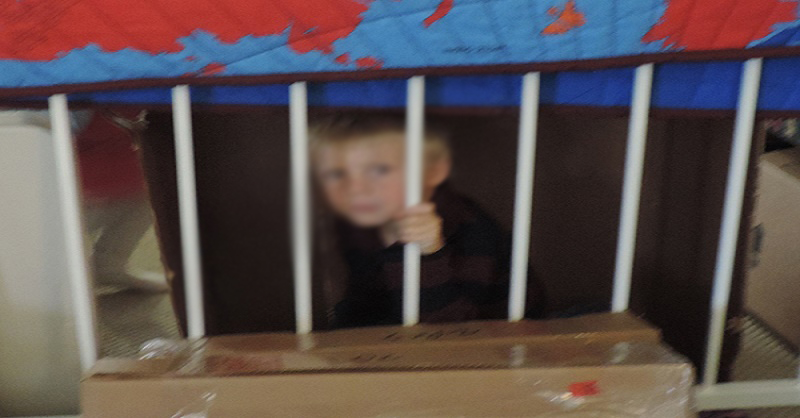 Tyler Haire was a 16-year-old with a history of mental health issues when he was arrested in 2012 for allegedly stabbing his father's girlfriend with a 10-inch butcher knife.
Haire remained in a Mississippi jail for nearly four years without getting a mental health evaluation or going to trial, and he has yet to receive treatment for his well-documented mental illness behind bars.
Following the attack, the report says Tyler Haire called 911 and waited for responders to arrive. Paramedics transported the injured woman to a hospital where she underwent surgery for a knife wound that cut her colon in half. Haire claims he doesn't remember most of what happened on the morning he was taken into custody.
"I remember calling the cops and standing outside, so I didn't have to look at what I did. The only part I remember is me going to get water after looking for some Kool-Aid that I was left by my mother," he told the BBC and ProPublica. "After that, it's blurry."
Haire was subsequently booked into Calhoun County Jail, where he was charged with aggravated assault as an adult. The sheriff said he put the teen in a solitary confinement cell for his own protection.
According to District Attorney Ben Creekmore, Haire was ordered to have a mental evaluation in Mississippi State Hospital's forensic unit at the beginning of his case. But the BBC and ProPublica report the evaluation never happened.
His mother, Bridgett, says her son had at least 10 mental health diagnoses during his childhood — including generalized anxiety disorder, impulse control disorder, major depression with homicidal ideations, a major depressive disorder with psychotic tendencies, and bipolar disorder.
But during his time behind bars, he never received mental health treatment, despite hearing voices in his head that made him "miserable to the brink of suicide," Haire said.
Nearly four years after his arrest, Haire was finally evaluated by a psychologist in August 2016 and was found to be legally competent. However, the psychologist noted, "At the time of the alleged crime, consistent with his history, he probably had a diminished capacity to conform his conduct to the requirements of the law just as he has never had the skills to live adaptively without support."
He was then taken to the state psychiatric hospital in Whitfield, and after 32 days he was returned to the sheriff's custody.
Haire took a plea bargain and was sentenced to seven years in jail, with credit for time served. He's expected to be released in 2018. A state corrections official told the BBC and ProPublica that county facilities like the one Haire is in do not provide substantial mental health care.
Haire told the reporters he still hears voices in his head but has gotten better at ignoring them.
According to the investigation, the state of Mississippi is being sued by the Department of Justice for inmates' lack of access to mental health care. Currently, more than 100 "legally innocent inmates" are awaiting pretrial mental health evaluations; three of them have been waiting more than 1,000 days.