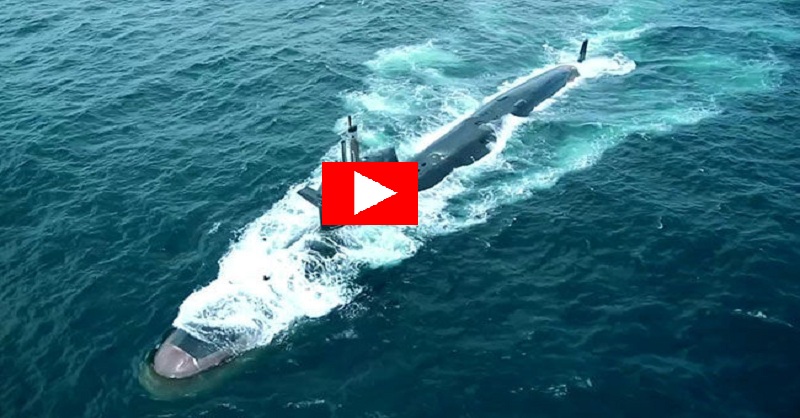 India's deadliest Submarine 'INS Kalvari' dive underwater, shoot missiles – Watch Video
As the Indian Navy celebrates 50 years of its submarine operations, it has released footage of INS Kalvari – India's deadliest Scorpene class submarine – undergoing sea trials.
The French-designed submarine was commissioned into the Navy by Prime Minister Narendra Modi earlier this month.
The video shows INS Kalvari's state of the art operations centre and how the crew manages this "deadly predator", which is aptly named after the tiger shark. It begins with footage of the submarine being built by Mazagon Dock Limited in Mumbai and then shows INS Kalvari on its maiden sortie.
After precise coordination from the crew, and a good look through the periscope, the Captain gives the order for the submarine to dive, and effortlessly she does. The video also shows a demonstration of how the submarine locks on to a moving target and destroys it using an Exocet anti-ship missile. 
The heart of the Kalvari's weapons system is SUBTICS or Submarine Tactical Integrated Combat System suite which processes information from the sonars onboard the submarine in detecting targets which can then be engaged with torpedoes or missiles.
INS Kalvari is the most modern non-nuclear submarine in the Navy and is powered by an extremely silent diesel-electric motor making it very difficult to detect underwater. The submarine is armed with heavy weight torpedoes and anti-ship missiles. The submarine can launch torpedoes both while submerged or on the surface.
Six Scorpene-submarines are being built by Mazagon Dock Limited as a part of Project-75 of the Indian Navy. The remaining five boats of the Project 75 will be delivered by the yard to the Navy by 2020. India has just about 15 submarines, a mix of Russian-origin Kilo class vessels and German HDW submarines. China has four times as many.
The first Kalvari, commissioned in 1967, was also the first submarine of the Indian Navy. It was decommissioned on May 31, 1996 after nearly three decades of service.