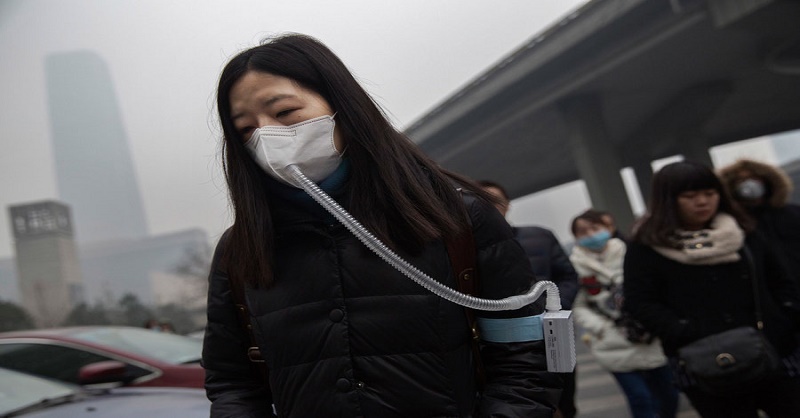 Rising pollution levels in Delhi and the extended National Capital Region (NCR) could soon see inhabitants walking around with oxygen cylinders on their backs to counter it, warn experts adding that a person would need at least five oxygen cylinders a day.
Rising pollution levels in Delhi has become the cause of several ailments, including premature birth, a decrease in lung immunity, allergies or aggravation of existing allergies, strokes, heart and lung disease, cancer and other acute respiratory diseases.
According to the website delhiair.org, air pollution in Delhi-NCR occurs due to a complex mix of pollution from human activities such as vehicle emissions, industry, construction, residential fuel burning, dust and sea salt.
A heavy concentration of particulate matter is greatly affected by meteorological conditions -in the winter, cool air causes"inversions" that stagnant the air and trap pollution close to the ground. Also, air flow patterns from Afghanistan and Pakistan pick up emissions as they move over the densely urbanized regions of Punjab and Haryana.
Farmers in these two states burn the straw in their fields and this pulls pollution into Delhi and its surrounding neighborhood. Pre-monsoon dust storms and city activities also contribute.
The website further reveals that the NCR generates 10,000 tons per day of municipal solid waste, much of which is eventually burned, and thus, adding particulate pollution to the air. Galloping urbanization brings massive construction projects to the area. In addition, Delhi has over a crore vehicles on its roads, and the result is another pollution "hotspot."
Environmentalist Chandraveer Singh bluntly said, "The problem of air pollution is not new, it has been there for ages and we talk about it, express alarm about it, wrestle with it year in and year-out, and almost never come up with a well-considered strategy to minimize it, let alone counter it."
"There is a need to generate awareness, improve coordination between civic bodies, the government and the people. We have a difficult task on our hands, and if we don't take appropriate emergency steps, we are looking at a Delhi-NCR where people will be walking around with at least five oxygen cylinders on their backs in a couple of years. The temporary closing of schools is not a solution at all," he added.
On issues such as vehicle emissions, industrial pollution, construction, residential fuel burning and dust, Chandraveer Singh categorically blamed the government for non-compliance with recent orders of the National Green Tribunal (NGT) and added that there is no infrastructure in place at the state or central level to ensure corrective action. Going a step further, he said that by and large, the administration is "clueless" on the counter-pollution narrative.
Dr. Vikas Maurya, a senior consultant at Fortis Hospital, Shalimar Bagh, recently listed steps to protect ourselves from the harmful effects of pollution.
* People should avoid going outdoors along with doing physical activities like cycling and jogging.
* N95 masks should be used if it is necessary to go out.
* Air purifying plants such as aloe vera, ivy, and spider plant can be placed at home or in the office.
* To ensure that indoor air pollution does not take place, make sure that there is a chimney in the kitchen and an exhaust in the bathroom.
* Consume fruits rich in vitamin C, magnesium and foods rich in Omega fatty acids.
* Have herbal ginger and Tulsi tea.