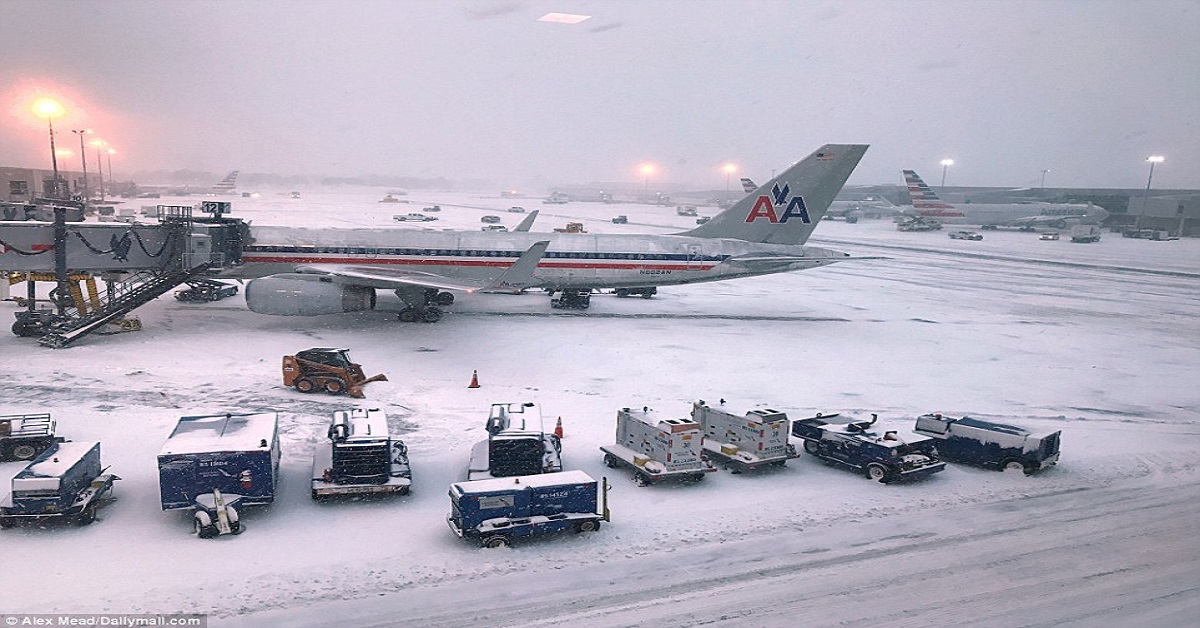 The 'bomb cyclone' had disrupted the routine of the people in the US, and caused the death of four. Its havoc still continues.
As a giant winter snowstorm – 'bomb cyclone' – walloped the US East Coast on Thursday with heavy snow and freezing cold that made for treacherous travel conditions and bone-chilling misery, airlines have had to delay or cancel thousands of flights, including Dubai's Emirates.
Airlines have canceled hundreds of flights as a powerful winter storm climbs up the East Coast.
The storm is expected to whip the region with high winds, snow and then record low temperatures.
READ ALSO: 
https://www.eastcoastdaily.in/2018/01/05/eastern-united-states-bomb-cyclone-report-death/
The New York area was among the hardest hit. John F. Kennedy International Airport suspended flights about 11 a.m. in white-out conditions, high winds and nearly 5 inches of snow, according to the Port Authority of New York and New Jersey, which operates the three major airports around New York City.
As of Wednesday afternoon, more than 500 flights to or from Boston Logan International Airport, a hub of JetBlue, had been canceled, according to FlightAware, a plane-tracking site. More than 900 flights were canceled in and out of the main three New York City-area airports.
Delta Air Lines said passengers booked to fly Thursday or Friday from a dozen airports in the Northeast can depart as late as Jan. 8 without paying a change fee. They may be charged a difference in fare, however, the airline said.
American Airlines issued a similar waiver for more than a dozen airports in the Northeast. The largest U.S. airline is also waiving change fees for travel from 14 airports in the South, including Savannah and Raleigh, due to the storm. A record-setting blast of cold is expected to follow the system.
Southwest Airlines warned travelers that flights to and from 19 East Coast airports may be canceled, delayed or diverted due to the storm and encouraged travelers to change their travel dates.
Dozens of flights were canceled across the Southeast on Wednesday, according to FlightAware, an online tracking service.
The Port Authority of New York and New Jersey said it had 524 pieces of snow equipment at the area's airports that can melt up to 500 tons of snow an hour but some flights may still be canceled due to high winds and poor visibility.
Airlines frequently offer travelers a chance to change their travel dates far in advance of a storm in an effort to avoid chaos at the airport, where travelers may be stranded, and to prevent a crush of frustrated travelers from overloading their employees.
In a statement issued on Friday, Emirates announced a list of flights that were delayed or canceled due to the severe snowstorm at New York JFK airport
Cancelled:
Saturday 06 Jan EK 203 DXB-JFK
Saturday 06 Jan EK 201 DXB-JFK
Saturday 06 Jan EK 208 JFK-DXB
Saturday 06 Jan EK 204 JFK-DXB
Delayed:
05 Jan EK 203 DXB-JFK
05 Jan EK 201 DXB- JFK
05 Jan EK 207 DXB-JFK
05 Jan EK 208 JFK-DXB
06 Jan EK 204 JFK-DXB
06 Jan EK 202 JFK-DXB
Due to severe snowstorm at @JFKairport, some of our flights are either delayed or cancelled. Please check your flight status herehttps://t.co/4BuqG5wh2s

Customers are advised to update their local contact details on our website to receive the latest updates and flight status

— Emirates Support (@EmiratesSupport) January 5, 2018
Passengers holding tickets to/from New York's JFK are advised to contact their travel agency or the local Emirates office – they are also advised to check the status of their flights for the latest information regarding their flights.