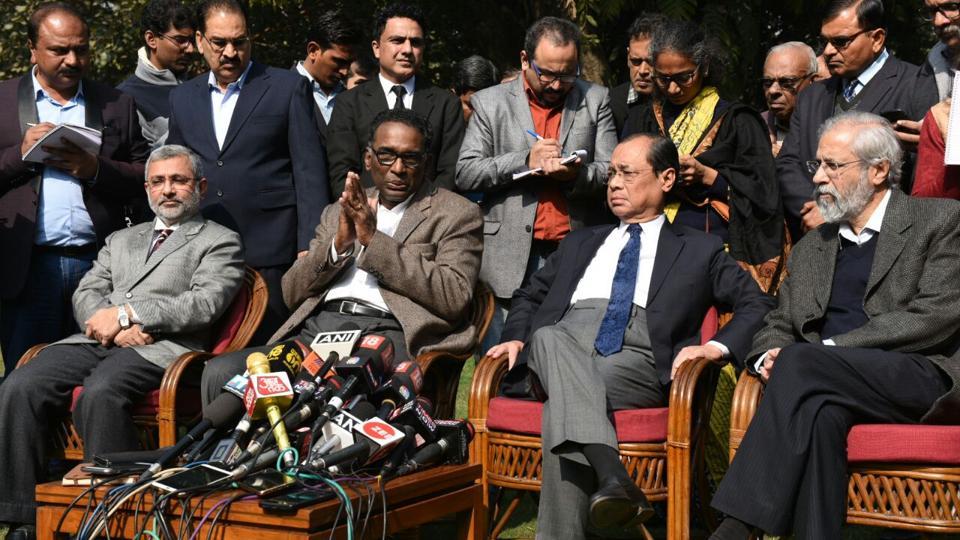 Four judges from the supreme court of India have revealed that they have conducted the press conference in order to save the interest of the nation.
The quartet of judges including Lokur, Gogoi, Chelameshwar and Kurien Joseph had addressed the press on Friday.They had made a reference to the letter they made to the chief justice of India regarding various practices prevailing among the judiciary.
Justice Chelameshwar had said that they owe a responsibility to the institution and the nation. Their efforts have failed in convincing the CJI to take steps to protect the institution.He said that there are certain things that have been prevailing among the judiciary and needed to be rectified as soon as possible.
They also said that these kinds of acts would only degrade the pride and honor of the institution.
The action has been welcomed with a mixed response.
While some in the legal fraternity supported the outburst of justices J Chelameswar, Ranjan Gogoi, Madan Lokur and Kurien Joseph, others raised questions against them.
Former Delhi high court judge justice (retd) RS Sodhi called for their impeachment, according to ANI.
"I think all four judges should be impeached. They have no business to sit there and deliver verdicts anymore," he said.
"We have all had differences. But never have we gone to press. This is appalling. This trade unionism is wrong. Democracy in danger is not for them to say; we have parliament, courts, police functioning," he said.
Calling the presser "quite shocking", senior Supreme Court lawyer KTS Tulsi said, "There must have been compelling reasons for the senior-most judges to have adopted this course of action. One could see the pain on their faces while they were speaking."
Top SC lawyer Prashant Bhushan thanked the judges for taking the "unpleasant, extraordinary stand", according to NDTV.
https://www.eastcoastdaily.in/2018/01/11/this-is-what-kajol-says-on-supreme-courts-verdict-on-national-anthem/
Indira Jaising, another top SC advocate told NDTV she supported the judges' move. "People need to know what happens behind the judiciary."
When asked about the judges going against the CJI, she pointed out that "they are not anti-CJI. They want to build a consensus."
"Maybe Loya case was the tipping point. The fact that it was listed in court today (Friday) is an indication," she told NDTV, referring to the mysterious death of former CBI court judge B H Loya, who was presiding over the Sohrabuddin Sheikh encounter case.
Senior advocate and Congress leader Salman Khurshid told ANI he was deeply pained and "also feel a sense of agony that highest court of land should come under such severe stress that forces judges to address the media".
He said the lawyers would meet at 5 to discuss the issue.
This issue is creating quite an uproar in the country which sees Court as the last resort of justice, but now doubts prevail over it.
SUPPORT : A four-year-old girl is fighting cancer; Parents seeking help
LINK TO DONATE : https://goo.gl/oKHre2