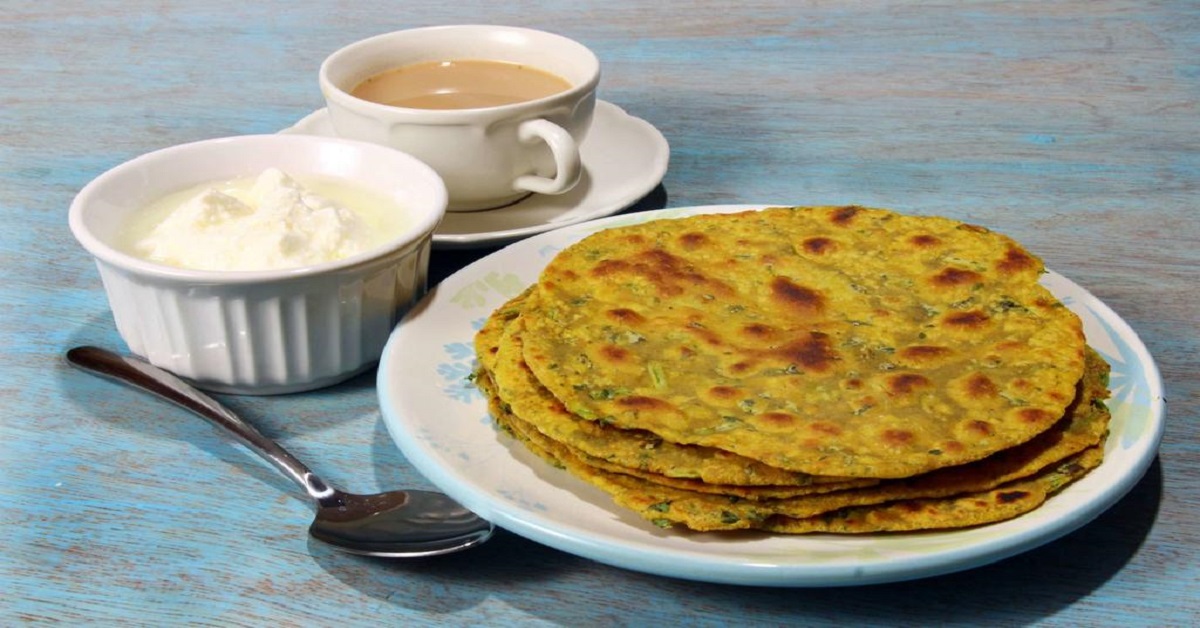 Feeling pizza? For breakfast? Then check out this recipe.
Multigrain Pizza Paratha
Prep Time: 10 mins                                                                                               Cook Time: 15 mins 
 Yields: 2 Pizza Parathas 
 
   Ingredients needed
   For the Dough
   Aashirwaad Multigrain Atta – 1 cup
   Salt – 1/4 tsp
   Oil – 2 tsp
   For the Pizza Paratha 
   Yellow Bell pepper -1 small or 1/2 a medium size
   Green Bell pepper -1 small or 1/2 a medium size 
   Red bell pepper – 1 small or 1/2 a medium size size
   Onion – 1 medium size 
   Sweet Corn – 1/4 cup 
   Pizza Sauce – 1-2 tbsp
   Grated mozzarella cheese as needed
   Dried Oregano – 1 tsp
   Chilli flakes or paprika – 3/4 tsp
   Salt to taste
   Butter or Ghee to tawa cook parathas
READ ALSO: A delicious, yet different South Indian breakfast recipe
Preparations
In a bowl, take 1 cup of multigrain atta, add 1 tsp oil, salt and mix well. Add warm water and make a soft dough. Then grease your hands with a tsp of oil and knead the dough well. Let it rest for 15 minutes. Keep it covered.
Prepare pizza sauce of your choice at home or get it ready made. 
Method
Discard the seeds and cut bell pepper into thin slices. Cut onion into thin slices. Cook sweet corn if it is not cooked and keep it ready.
In a bowl, mix together bell peppers (all colors), sweet corn, onion, grated cheese (use mozzarella or any local Indian cheese), dried oregano, chili flakes or paprika and salt needed. Taste and adjust seasonings. Mix everything well.
Divide the dough into 4 equal parts. Make smooth balls.
Take a dough ball, flatten it, dust flour and roll it out gently into a circle (or roti) using a rolling pin to a diameter of approximately 7-8 inch. Roll another ball in the same way and keep it aside.
Spread pizza sauce all over one roti, leaving a small space around the corners.
Spread the required vegetable mixture on top of it. Top it with more grated cheese. You can also sprinkle more chili flakes if you prefer it spicy.
Cover it with the other roti. Press it gently with your hand and seal the edges by pressing both the rotis together. Alternatively, you can fold the corners and seal gently.
Heat a tawa, when it is hot, gently place the pizza paratha.
Spread oil or ghee or butter all over and cook both sides on medium-low heat until well cooked. 
Remove from heat. Repeat the same process for the other pizza paratha.
With the help of a pizza cutter or knife, cut the pizza paratha into 4 pieces and enjoy!!