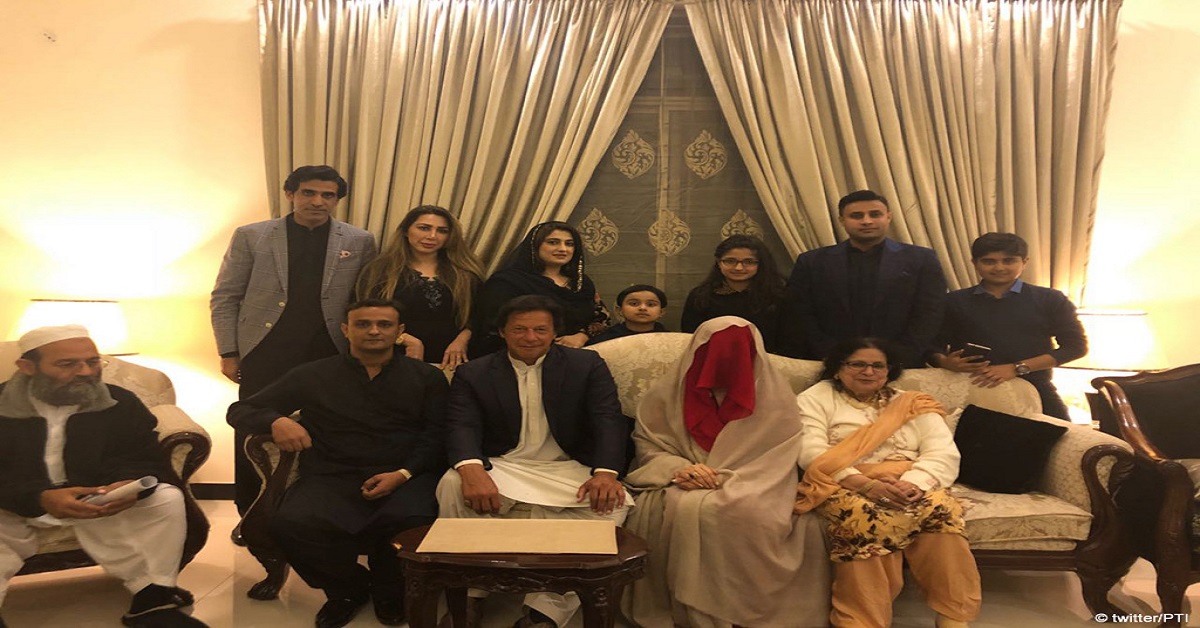 Dressed in a dark blazer over a traditional white shalwar kameez, while his wife clad head-to-feet in a grey robe with a red veil covering her face, the former cricketer turned politician Imran Khan had publicized his wedding.
Pakistan Tehreek-i-Insaf (PTI) chief Imran Khan married Bushra Maneka, a respected Pir [faith healer] in Pakpattan, in "a simple ceremony" in Lahore on Sunday, the party's spokesperson said.
Confirming Khan's third marriage, PTI spokesperson Fawad Chaudhary said that the ceremony was held at the residence of Bushra's brother.
only close relatives, including the bride's mother, and friends participated in the ceremony — Khan's sisters, however, were not in attendance. Mufti Saeed performed the nikah in the presence of Awn Chaudhary and Zulfi Bukhari who appeared as witnesses said PTI members.
READ ALSO: Has India imposed travel restrictions on pilgrims traveling to Pakistan?
The ceremony was a low-profile one as per the desire of Imran Khan, Haq added. He expressed hope that Imran Khan's marriage would prove blessed not only for him and his wife but for the entire nation.
Bushra Maneka is in her 40s and belongs to the Wattoo clan, of which the Manekas are a sub-clan. Earlier, she was married to Khawar Farid Maneka, a senior customs official in Islamabad but parted ways in recent times.
The PTI chief has been married twice before. His first marriage was with Jemima Goldsmith, daughter of a British billionaire in 1995. The couple divorced in 2004.
Khan's second marriage to Reham Khan dissolved 10 months after a public ceremony had taken place in January 2015.
Khan has previously referred to Watto, a mother of five, as his 'spiritual adviser' and someone whose guidance he valued.
READ ALSO: Will Pakistan politics' new face reach the power house?
Last month, Khan responded to feverish media speculation about his marriage proposal by lashing out against political opponents and urging others to be respectful to Watto's "very conservative" family. A day later, however, the party had 'clarified' that Khan had only proposed marriage to Bushra Maneka.
During an interview, Khan had said: "I met Bushra [Maneka] almost two years ago. I will like to reiterate that every time I met her, with family and alone, she has been in purdah. My interest in her lies in the fact that I have not seen or met anyone with her level of spirituality."
He had made it clear that he only sent the proposal for marriage after she divorced her husband.
Khan's connection with the Manekas was confirmed by PTI leader Naeemul Haq in 2016 when rumors were doing the rounds that the PTI chief had married a UK-based relative of the family on the advice of his spiritual patron, Bushra Bibi, also known as Ms. Pinki Pir.
Haq had then denied reports about Khan's third marriage but confirmed in his tweet that his leader had "spiritual relationship" with the Maneka family.
A source close to the family had told Dawn that Khan first visited Bushra ahead of the NA-154 (Lodhran) by-poll in 2015 and was very pleased when Jahangir Tareen won the seat according to her prediction. Since then he has been visiting her regularly, the source had added.
Mumtaz Hayat Maneka, a young Aitchisonian from the Maneka clan, had said the PTI leader had a lot of reverence for Pinki Bibi as a true follower.