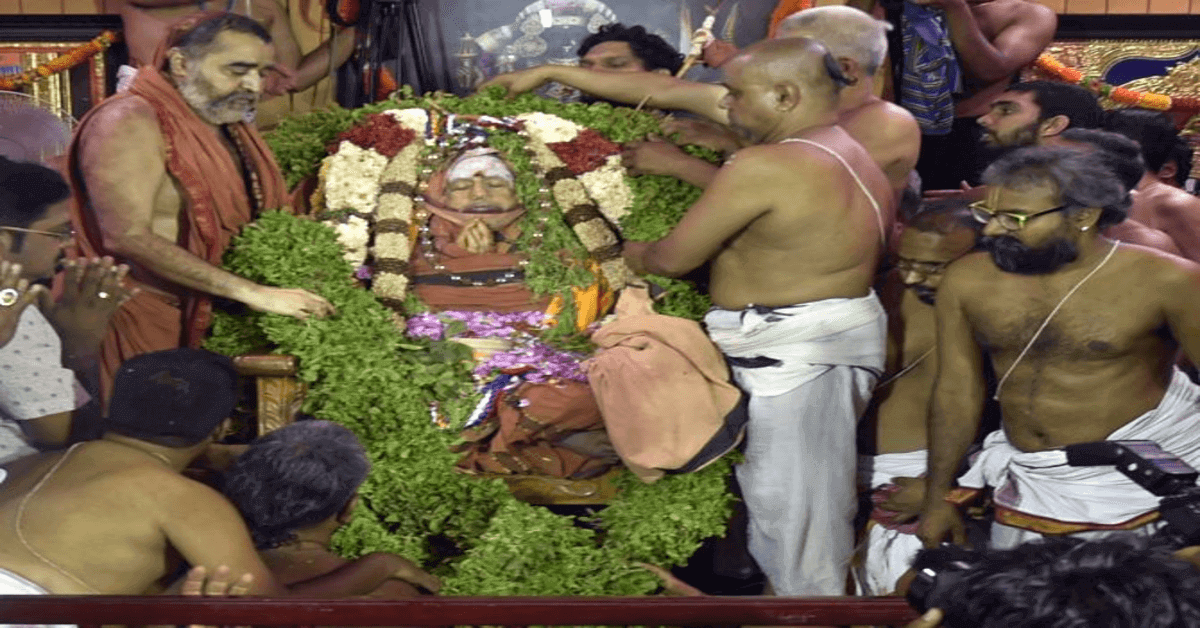 The final rituals for burying the mortal remains of Sri Jayendra Saraswathi in the premises of the Kanchi Sankara Mutt in Kanchipuram began this morning in the presence of some of his family members. 
 Jayendra Saraswathi, regarded as one of the most influential spiritual leaders of his time but whose shock arrest in a murder case robbed the spiritual shine of the Kanchi mutt, died here yesterday.
READ ALSO: Senior Pontiff dies at the age of 82; junior seer to take over
Here are the LIVE UPDATES:
11:47AM
Jayendra Saraswathi last rites
Thousands of devotees pay tribute to Jayndra Saraswathi.
11:28 AM
The rituals for lowering Jayendra Saraswathi's body in the 7 x 7 ft burial pit in the Brindhavanam Annexe is expected to be completed sometime after 11 am.
11:02 AM
The body of Jayendra Saraswathi will be carried later to the adjacent 'Brindavan Annexe,' where the mortal remains of his predecessor Sri Chandrasekerendra Saraswathi were interred in 1993, a mutt official told the agency.
10:34 AM
The final rites of Jayendra Saraswathi began with an 'abhishekam' ( bath)  with milk and honey.
10:31 AM
Tamil Nadu Governor Banwarilal Purohit participated in the burial ceremony by offering flowers, reported a news agency.
9:45 AM
Jayendra Saraswathi is expected to be laid to rest beside his guru, Sri Chandrasekharendra Saraswathi.
9:44 AM
Tamil Nadu Governor and union ministers to be present
Tamil Nadu Governor Banwarilal Purohit,  Union Ministers  Sadananda Gowda, and Pon Radhakrishnan will attend today's last rites ceremony in Kanchipuram.
9:40 AM
At the moment priests are performing abhishekam, a ritual that involves chanting of mantras.