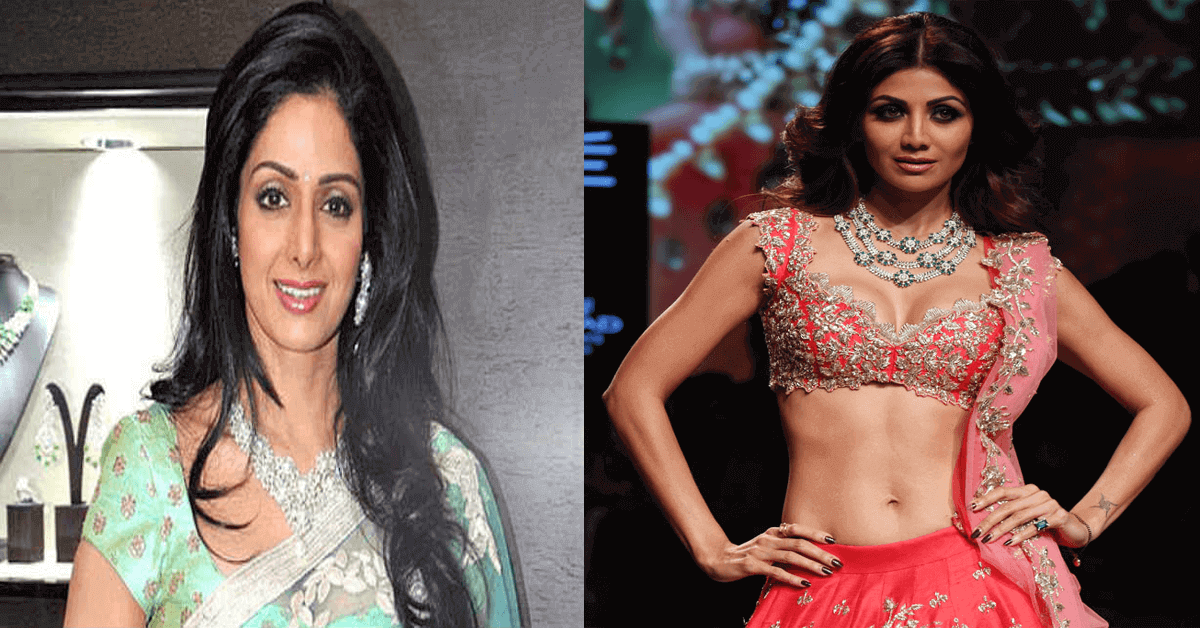 Bollywood has been gifted with some absolutely beautiful and talented actresses. For some of these beauties, age is just a number. Sridevi, who passed away on Saturday, was one prominent figure among these beauties. Though she was 54 she seemed so young and amazing. Apart from the late actress, Bollywood has some more actresses who seem young even after 40.
Now, let us have a look at these amazing beauties of this Bollywood.
Sridevi Kapoor
Sridevi Kapoor is considered as the first lady superstar of India. She enjoyed star status not just in Bollywood, but other languages such as Tamil, Telugu, Malayalam, and Kannada. Many consider her as the epitome of beauty.
Kajol
Kajol is an Indian film actress, who mainly works in Hindi cinema. Kajol, who is the daughter of actress Tanuja Samarth and filmmaker Shomu Mukherjee is loved by many for her natural beauty. She is regarded as one of India's most successful actresses and has won many awards. She is 43 years old.
ALSO READ: Bollywood legends give a teary-eyed farewell to the first lady Superstar of Indian Cinema
Aishwarya Rai Bachchan
Aishwarya Rai who is 44 years old now, is a prominent Indian actress and model. She is also the winner of the Miss World 1994 pageant. She is considered as one of the most beautiful actresses in the country. Aishwarya also enjoys huge fanbase across the world, thanks to her astonishing beauty.
Rekha
Rekha, whose original name is Bhanurekha Ganesan, is a veteran film actress. She is often considered as a versatile and fine actress. Though she was initially criticised for her looks, Rekha emerged to become one of the most beautiful actresses in the country. Rekha, a Padma Shri winner, looks ravishing even at the age of 63.
Sushmita Sen
Sushmita Sen was the first Indian woman to win the crown Miss Universe pageant. Later, she entered Bollywood and soon became the favourite of many. The unmarried actress still looks gorgeous even at the age of 42.
Malaika Arora
Malaika Arora is another actress who is known for her young looks. The actress who is now 44 years old, is also a great dancer who is still remembered for her performance in the song Chaiyya Chaiyya from Dil Se.
Shilpa Shetty
Shilpa Shetty, also known as Shilpa Kundra, is quite famous for her appearance in the British reality television series Celebrity Big Brother 5. Shilpa still keeps herself slim and beautiful by practising yoga. the actress, who is currently 42 years old, is an inspiration for most women.
Twinkle Khanna
Twinkle Khanna, a former actress and wife of Bollywood actor Akshay Kumar, is currently one of the highest paid woman authors in the country. Twinkle also finds time to do necessary training and exercise to maintain her beauty even at the age of 43.
Raveena Tandon
Raveena Tandon, an actress, producer, and former model, is a National Film Award winner.The actress won the hearts of many fans in Bollywood and south India through her cute and amazing looks.