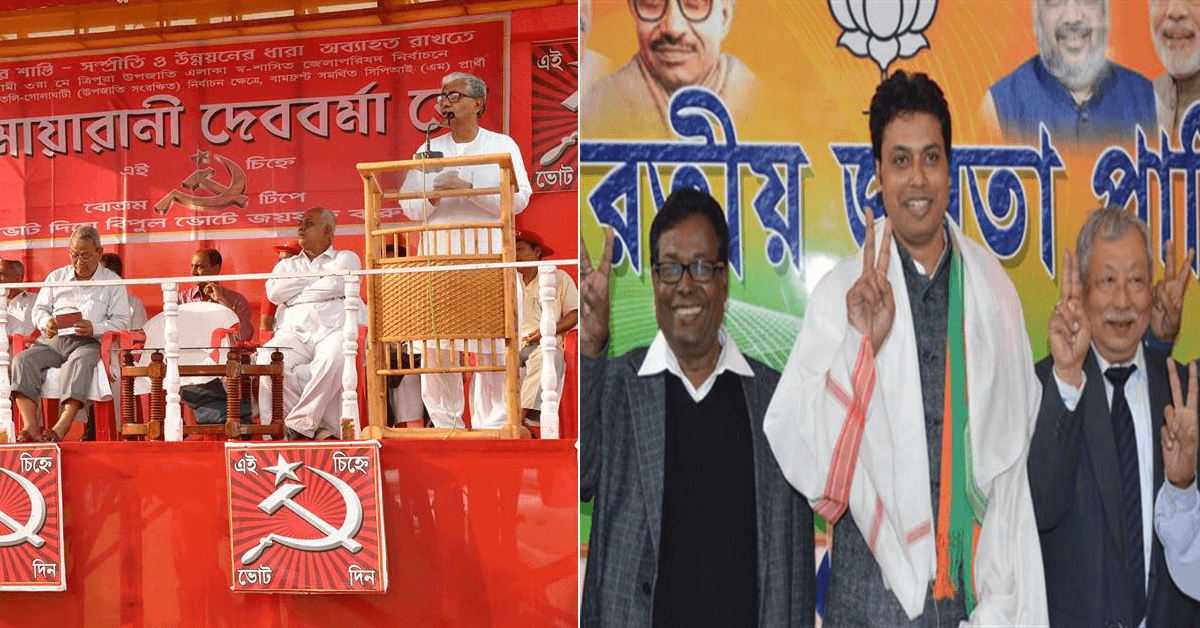 As the Vote counting for Tripura election is to be conducted on March 3, both the ruling Left front and a spirited BJP has expressed confidence in forming the government in the state.
Communist Party of India-Marxist (CPI-M) Tripura State Secretary Bijan Dhar said "There is no doubt that the eighth Left Front government would be formed after the counting of votes on Saturday. People of Tripura voted for the Left parties on February 18 for peace and steady development in the state," said Dhar, also a CPI-M central committee member.
He was also hopeful that the dream run of BJP will be put to an end in Tripura and which will give a great confidence to the anti-BJP alliance in Indian Politics.
Bharatiya Janata Party (BJP) Tripura unit President Biplab Kumar Deb said: "People want change. People strongly wish for a BJP government in Tripura. It is certain that the BJP will form the next government in Tripura."
He exuded confidence that the 'misrule' of Left government will find its end in this election.
Tripura election which was conducted on February 18 saw a voting percentage of 92 of which 50,770 were postal ballots.
Also read: Tripura Exit polls fail to give a clear picture
Balloting in the Charilam (reserved for the tribals) has been deferred to March 12 after the death of a CPI-M candidate.It is foir the first time in any stae CPIM has come in adirect fight with BJP in election.
Tripura is under the rule of CPIM led left Government since 1993.
The Congress, which fought Assembly elections in alliance with the tribal party since 1983, entered the poll battle alone this time.
The BJP previously fought elections alone but has since aligned with the IPFT, which since 2009 has been agitating for a separate state comprising areas under the Tripura Tribal Areas Autonomous District Council.
Of the 59 seats , CPIM is contesting in 56 seats and giving its allaiance partners CPI, Forward Bloc and Revolutionary Socialist Party one seat each.
The Bharatiya Janata Party (BJP) is contesting in 50 seats and left nine seats for its ally, the Indigenous People's Front of Tripura (IPFT).Congress on the other hand is contesting in 59 seats.The Trinamool Congress has fielded 24 candidates.