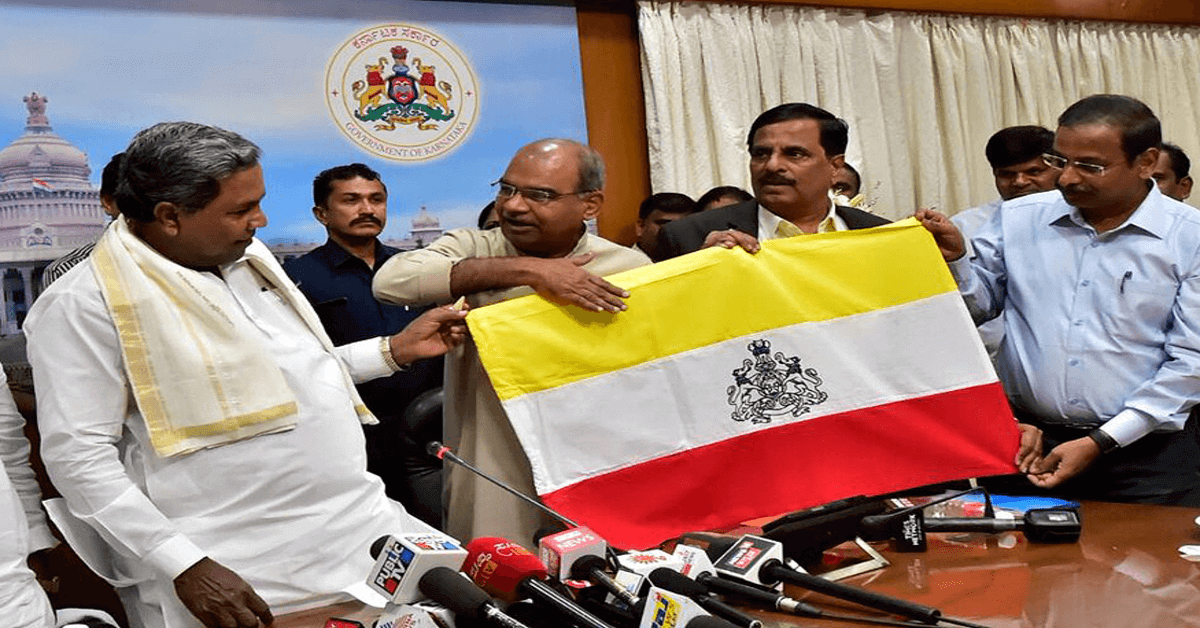 Did you know that Karnataka had a flag of its own? But it seems changes have been made to it.
The Siddaramaiah government in Karnataka unveiled a state flag on Thursday. The flag or "Naada Dwaja" with red, white and yellow colors have state emblem "Ganda Bherunda", a two-headed mythical bird in the middle.
The committee to decide the design of the flag headed by Kannada Development Authority (KDA) chairman S G Siddaramaiah submitted the new design to Chief Minister Siddaramaiah at the Vidhana Soudha on Thursday morning.
The CM has accepted the design and assured the committee that he will send it the Centre. He said that there was no bar on state flags in the Constitution and all states can have their own flags.
Earlier, Karnataka had an informal or unofficial yellow and red flag used by Kannada organizations and others. The same flag was used for government functions. After public demand for an official flag, Siddaramaiah had formed a committee to come out with a design.
READ ALSO: Karnataka Lokayukta stabbed; a detailed report of the incident
The Kannada flag had led to a war of words between the ruling Congress and main opposition BJP when the committee was formed. BJP leaders, including Shobha Karandlaje, had questioned it saying that Siddaramaiah was practicing divisive politics. After public uproar against BJP's stand, the saffron party decided to quieten its stand on the issue.
Even the Union Home Ministry had expressed its disapproval then.
Speaking a news agency Siddaramaiah said "Kannada flag is not unconstitutional. It is not barred by the Constitution. The only thing is we have to hoist it below the national flag, which we will anyway do. We will send the design to the Centre. Hope they approve it. There has been a long pending demand for it. I am happy that we finally have a Kannada Baavuta (Kannada Flag)."
READ ALSO: Election commission releases a statement regarding Karnataka Election date
The chief minister who has been cleverly using the Kannada nationalism card to counter BJP's nationalism card seems to have put the saffron party on the back foot once again. Following a huge protest over Hindi imposition by the Centre, Siddaramaiah had ordered the removal of Hindi signage from Bengaluru Metro in last July. He has also taken several measures to uphold the primacy of Kannada in Karnataka.
The BJP has decided to maintain silence over the new Kannada flag fearing that any opposition might cost them votes and the party will be branded as anti-Kannada.
The BJP has also woken up to Kannada sentiments and playing its own Kannada card in the elections. The JDS has welcomed the Kannada flag though initially, it called it an election gimmick.
Is this the beginning of new changes that are to come?