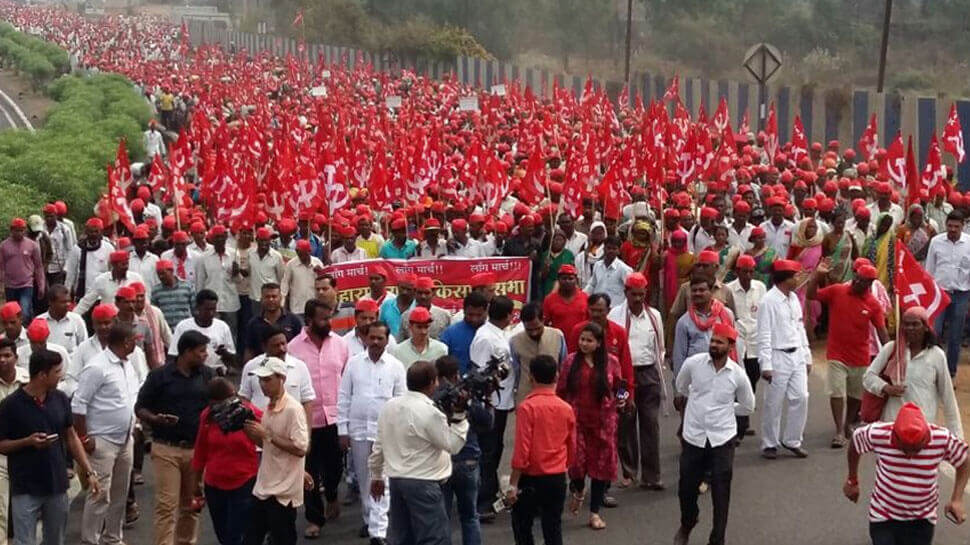 The huge farmers' march in Maharashtra that set out from Nashik on Tuesday, has finally reached Mumbai on Saturday as thousands of protesters have entered near the octroi naka yard close to Mulund toll naka. The crowd, which includes around 35,000 farmers, intends to proceed towards KJ Somaiya ground located in central Mumbai.
The farmers' protest, led by All India Kisan Sabha (AIKS), is expected to intensify on Monday as it plans to 'gherao' the Maharashtra assembly in the city. Mumbai police are said to have taken precautions for tomorrow by issuing traffic advisories as the march is expected to shut the busy roads in the city.
ALSO READ: Udhav Thackeray set to meet Maharashtra CM Devendra Fadnavis; Might talk about alliance for 2019 Lok Sabha election
The farmers, wearing red caps and waving flags and sickles, have been marching from Nashik to Bhiwandi in the last few days, and have almost covered an exhaustive distance of 180 km to reach the state capital so as to conduct a massive protest against the state government's apparent ignorance towards their sufferings. Other demands include a complete waiver of loans, implementation of recommendations ofM.S. Swaminathan Commission recommendations (which ensures fair remuneration), waiver of power bills and transfer of forest lands.
It must be noted that the BJP's previous ally Shiv Sena has also extended their support to the farmers making it difficult for the state government. According to the farmers, they have been suffering from agrarian distress and huge financial burden. They also accused the government of not doing anything to improve their conditions which have forced the farmers to set out to protest.