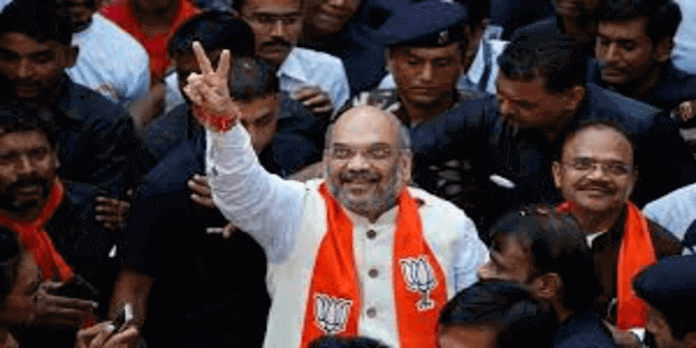 Often political leaders visit different states and strengthen their relationship with the citizens there.
On the month of April, BJP resident Amit Shah was supposed to visit for 4-days. But the state BJP leadership wants it to be deferred.
Panchayat elections are knocking at the door and leaders would be busy with the filing of nominations when he is scheduled to come to Bengal.  
According to sources, April 8,9,12 & 13 are the dates given by the office of Shah regarding his visit to Bengal. Senior BJP leaders would meet on March 17 and a decision regarding Shah's visit would be taken. The state BJP leaders would request the central leadership to defer his visit.
READ ALSO: Amit Shah takes a dig at Rahul Gandhi over his absence from the country
If Shah's trip is postponed, the next available window would be in June or July because Karnataka goes to poll in May and after their success in Tripura, BJP would try their best to topple the Siddaramaiah government in Tripura and Shah would be engrossed in planning that campaign. So in all probability, he would arrive in Bengal after the Panchayat polls.
During his last visit to Bengal in September last year, Shah had said that he would be returning to Bengal in three months and accordingly state BJP leaders had started preparations for his arrival in December but owing to Tripura Assembly elections his tour was deferred by an indefinite period.
READ ALSO: Karnataka Rally : Amit Shah mocks and imitates Rahul Gandhi : Watch Video
Many of the senior state BJP leaders believe that it would be better if Shah comes over after the Panchayat polls so that he can get a lowdown of the party's performance and a first-hand information of the violence which the party leaders are anticipating during the panchayat elections. 
Senior state BJP leaders including Dilip Ghosh, Rahul Sinha were among team members who visited West Bengal Governor Keshari Nath Tripathi on Monday and submitted a memorandum demanding a violence-free, and fair Panchayat election and the use of adequate Central force during the poll process and to facilitate online submission of nominations.