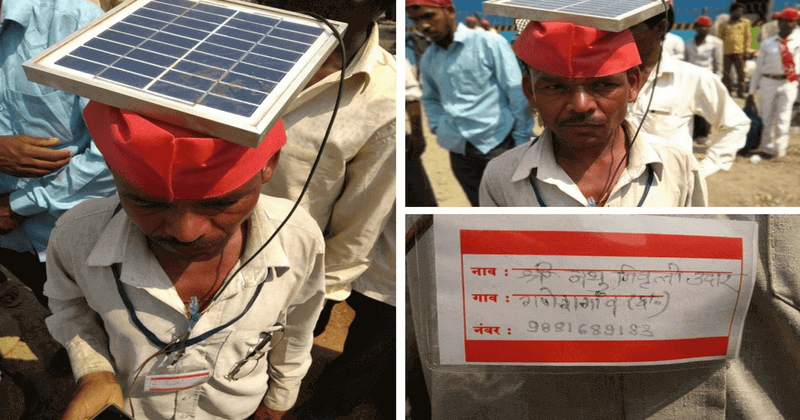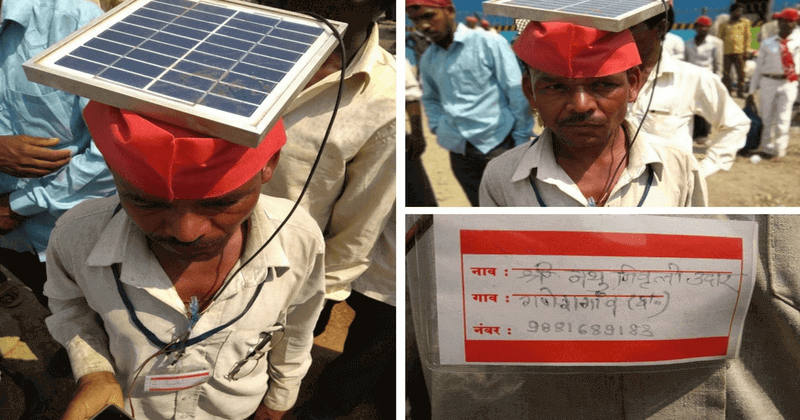 The media's attention is on the farmers, among other things. The kisnas wanted their voice to reach the government ears and actions be taken.
So they have come up with the 'maha' march.
Covering a 180 km journey on foot is not only arduous but also poses several logistical challenges – arrangements have to be made for food and water, for instance.
But the 35,000 farmers who undertook the Long March from Nashik to Mumbai to draw attention to the agrarian crisis in rural Maharashtra had these grounds covered, and then some.
Spotted in the crowd of protesters were a couple of farmers with odd contraptions on their heads. A closer glimpse revealed that these devices were mini solar panels, the size of big hats, that some farmers had carried along so they could keep their phones charged during the six-day journey. The group of protestors – about 35,000 in number – left Nashik on Tuesday and reached Mumbai on Sunday.
READ ALSO: Why farmers' 'maha' march and protests have been called off
A handful of farmers were spotted with these devices, which they were sharing with fellow protestors. They said a half-hour charge could give enough juice to phones to run for a couple of hours. The panels could charge four-five phones at a time.
Over the past week, India's farmers rose in protest once again to draw attention to the agrarian crisis – and this time, the government took notice.
The six-day march by Maharashtra's farmers ended with a promise from the state government, at least on paper, to fulfill their demands, which included a loan waiver and rights over their land. The farmers, who had set out on a 180-km journey on foot to Mumbai on March 6, called off their protest on March 12 after the Devendra Fadnavis-led Maharashtra government gave them a written assurance that it would look into most of their concerns in two months.
READ ALSO: Maharashtra farmers to hold huge protest in front of State Assembly
Fadnavis had announced a loan waiver scheme last year, but it was reportedly beset by technical problems. His government reportedly agreed to expand the ambit of the scheme on Monday.
The farmers have also demanded the implementation of the Swaminathan Commission's recommendations of 2005-'06, which include proper implementation of minimum support prices for farm produce apart from crop insurance and credit schemes and measures to improve irrigation.
Maharashtra's arid belts of Vidarbha and Marathwada have been known to be a hotbed of farmer's suicides and have been reeling under a series of crises for many years now, including drought, pest attacks, and erratic weather conditions. While this chapter of the farmers' struggle has ended in success, it remains to be seen if the government will come through on its promises.