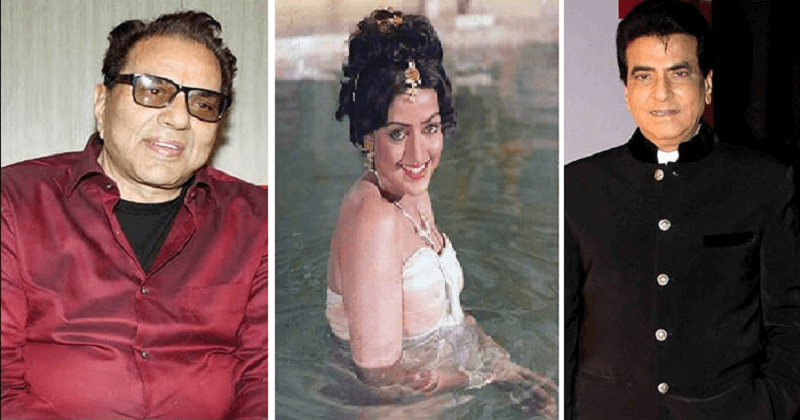 Dharmendra was a married man when he met Hema and it is not always a very respectful place in someone's life as the 'other woman'. Hema Malini has mentioned her love story in her biography "Hema Malini: Beyond The Dream Girl".
Hema's mother had a whiff about the secret relationship that was going on between Hema and Dharmendra. She was keeping a close eye on them. The secret couple had to restrict their meetings to film sets, and the movies were quite many, as the people loved seeing them together and they made a perfect Jodi.
Hema's mother felt that things were getting out of hand and the only way out was to get Hema married and the search didn't go very far as Jeetendra, who had done two movies with Hema by now, seemed like a suitable match for her.
Also Read: Esha Deol was a Hot bombshell but couldn't replicate the success of Hema Malini
Jeetendra also liked Hema and continued pursuing her, and after being rejected by Hema, he settled with just 'being friends'. But, as the families insisted to their alliance. Jeetendra once quoted to a close friend, "I don't want to marry Hema. I am not in love with her. She is not in love with me. But my family wants it, so I might as well. And she is such a good girl."
The families flew to Madras for a quiet wedding ceremony as they didn't want any uninvited trouble. One news daily got the whiff of the story and it was published in the next issue being the 'big story'.
Also Read: These Bollywood celebrities converted to Islam from other religions
When Dharmendra got to know of it, he was shocked, stunned and left no stone unturned in undoing the wedding. He rushed to Shobha Sippy's house, then Jeetendra's air hostess girlfriend and the two took the next flight to Madras to take matters into their hands.
They stormed into Hema's Madras house. Hema's father was angered beyond measure and asked Dharmendra to get out of his daughter's life. After much cajoling, they agreed to let Hema and Dharmendra speak alone.
While Jeetendra stated his intention of marrying Hema to Shobha, Hema asked for some day's time. Jeetendra and family insisted that it was now or never. Hema shook her head and Jeetendra and family left the place in evident rage.